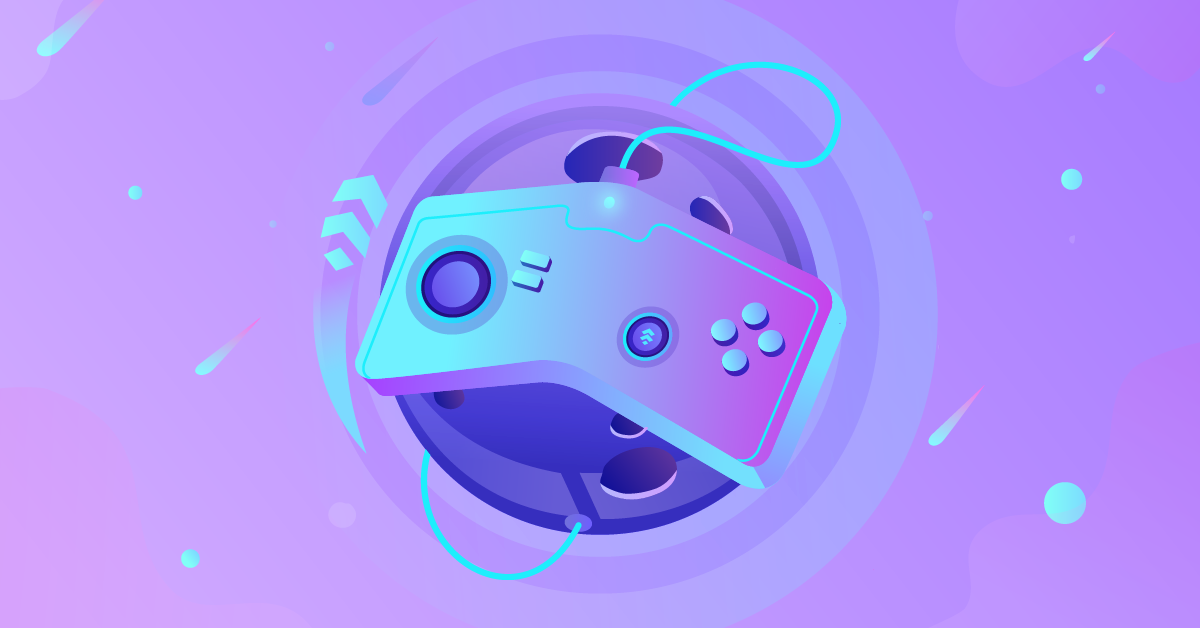 This article aims to provide an overview of GameFi, how it works and addresses some of the most commonly asked questions about GameFi. This article references examples of GameFi and its risks. If you are unfamiliar with crypto, do read our articles on blockchain, crypto, DeFi, and NFTs before reading this article.
GameFi
A subset of DeFi; GameFi is an umbrella term for play-to-earn games on the blockchain.
The Rise of GameFi
A term first coined in 2020, GameFi refers to the combination of gaming and DeFi. While this is not a new concept, with blockchain games like CryptoKitties released as early as November 2017, it really took off in 2021. In fact, many are expecting 2022 to be the year of GameFi.
Also known as play-to-earn games, it is not difficult to see why GameFi is an attractive idea to the general public. Traditional games require payment with no benefit other than the satisfaction of playing the game, whereas blockchain games have a financial pay-off and can be actual jobs for people in some countries.
How Does GameFi Work?
Typically, you would need some in-game assets in the form of non-fungible tokens (NFTs) to play. Depending on the game, this could be characters, equipment, or land. As the GameFi space is still nascent, currently available games are straightforward to play. Even so, there is a good variety of games to play and many more in the making.
Here are some popular GameFi projects available today:
Splinterlands
While Splinterlands was built on the Hive blockchain, it is a cross-chain game that operates on other chains like Tron and Ethereum. It is a collectible card game where players fight against monsters to get rewards.
The game is free to play, and new players are given a set of starter cards but may purchase more from the in-game marketplace. Additionally, to maximize the game's rewards, players are encouraged to buy the Summoner's Spellbook, which can be purchased for $10 either in fiat or crypto. Check it out here.
Alien Worlds
An NFT metaverse where players can trade trading card NFTs and earn Trilium (TLM), Alien Worlds touts itself as the "largest decentralized game on Earth". With a large focus on connecting with other players and earning TLM to participate in DAOs, Alien Worlds is community-focused and the game is very much driven by its players.
Aside from trading NFTs, players can stake Trilium, participate in Planet DAOs to decide how to run the planetary council, and mine, fight, and go on missions for rewards. Check out Alien Worlds here.
DeFi Kingdoms
Hosted first on Harmony One and now also on Avalanche, DeFi Kingdoms is a nostalgic RPG-based game that allows players to hold jobs and farm various items. It contains a DEX, liquidity pools, and of course, NFTs.
DeFi Kingdom's native currency is JEWEL, which players can use to swap, create LP pairs, provide liquidity, stake, or buy Heroes and Land, which are NFTs, and JEWEL is also now used to pay for gas on DeFi Kingdoms' own subnet. Its appeal is in its pixel-art style that has gamified DeFi by allowing you to perform regular DeFi tasks such as farming, staking, and trading, all within a game that makes it easy and fun. Check it out here.
Axie Infinity
This game is hosted on the Ethereum blockchain. Players need to own at least three Axies to play, which are axolotl-like creatures that can be battled, bred, and collected. Players can purchase Axies on NFT marketplaces.
Axies can be bred using an in-game token called Smooth Love Potion (SLP) and collect more Axies as they do this. Axies battle in threes, and battles may earn players Axie Infinity Shards (AXS), which may be used to buy in-game assets such as land. This land is also an NFT and can be purchased or sold on NFT marketplaces. Although a recent exploit has caused a massive dip in the price of AXS and a -23% dip in number of players according to DappRadar, Axie Infinity currently remains in the top 20 most popular DeFi games. Learn more about Axie Infinity here.
Decentraland
Hosted on the Ethereum blockchain, Decentraland can be played even without opening a wallet. You may access the game as a guest player but cannot attend events or do anything aside from interacting with the world.
Essentially a metaverse, you may attend a party, NFT art events, or even create your own digital content, which you can then monetize. Decentraland's main currency is MANA, which you may use to buy LAND, which are parcels of land within the Decentraland metaverse. Explore Decentraland here.
GameFi Risks
Similar to DeFi, GameFi is subject to smart contract risk. Hackers could exploit bugs in the game for money, toppling the game's economy. Otherwise, there is always the risk of getting your wallet hacked and your assets stolen. In fact, many scams target users directly.
Here are a few tips to safeguard your GameFi assets.
Never ever give out your private keys
Scammers can be persuasive in getting you to give up your private keys. Remember that no admin of a legitimate project will ever ask for your private keys; they simply would not need it.
Do not store your private keys online
We recommend writing your private keys down on a piece of paper and storing it somewhere only you know. Avoid storing it digitally, even if you believe it to be private and secure.
Do not connect your wallet to dubious websites
If someone sends you a random link that requests to connect to your wallet, reject that request. Better yet, don't click on suspicious links or links that you don't recognize. Similarly, always check that you are buying or trading legitimate assets, as many fake replicas are being created of popular projects.
Always do your own research (DYOR)
A common saying in the cryptoverse, always DYOR before getting in on anything. Especially because there is actual money involved, be on your guard and remember that it is better to err on the side of caution.
How to Get Started on GameFi
If this all sounds exciting to you and you would like to start your journey into the world of GameFi, here are the initial steps to get you started.
1. Set Up a Wallet
While some games can be played without a wallet, most games will require one for you to experience the game entirely. Some popular wallets include Metamask, Trust Wallet, or Argent. There are many wallets available, but please do your own research to decide on a secure, trustable wallet.
2. Add Funds to Your Wallet
You will need the native token of the blockchain your chosen game is on to purchase assets for your game. This may be ETH if your game is hosted on Ethereum, or something else. You may also need some in-game currency, depending on the game you are playing. Refer to our article on the best ways to buy cryptocurrency for a more detailed guide on purchasing cryptocurrency.
3. Purchase Digital Assets
You might need an NFT to play your selected game or maximize your gaming experience. This could be purchasing an avatar, a plot of land, items, cards, or other beginner items. Refer to the website of the game you are playing for information on what you need to get started and how you may acquire it.
4. Start Playing
Most games will have a tutorial to get you started, so you don't have to worry about learning how to play it. All that's left to do is have fun and enjoy the game!
Is GameFi the Next Big Thing?
GameFi is a field attracting a lot of investors and retail interest alike. It has revolutionized the gaming industry by giving rise to play-to-earn games, allowing players to gain monetary rewards while playing their favorite games. The barrier to entry depends on each individual game, although almost all games will require players to own a crypto wallet and some sort of cryptocurrency and/or NFT. Overall, GameFi is a new and exciting field in the world of DeFi that many people are expecting great things from.
Learn more about NFTs in gaming here!
New to DeFi? If you found this useful, check out our other Learn DeFi articles to dive deeper into the wonderful world of DeFi! Alternatively, browse our Insights section to read more in-depth analyses on the DeFi space. You can also try out our flagship product, Harvest, to get a comprehensive analysis of your DeFi assets. Lastly, subscribe to newsletter updates in the box below!