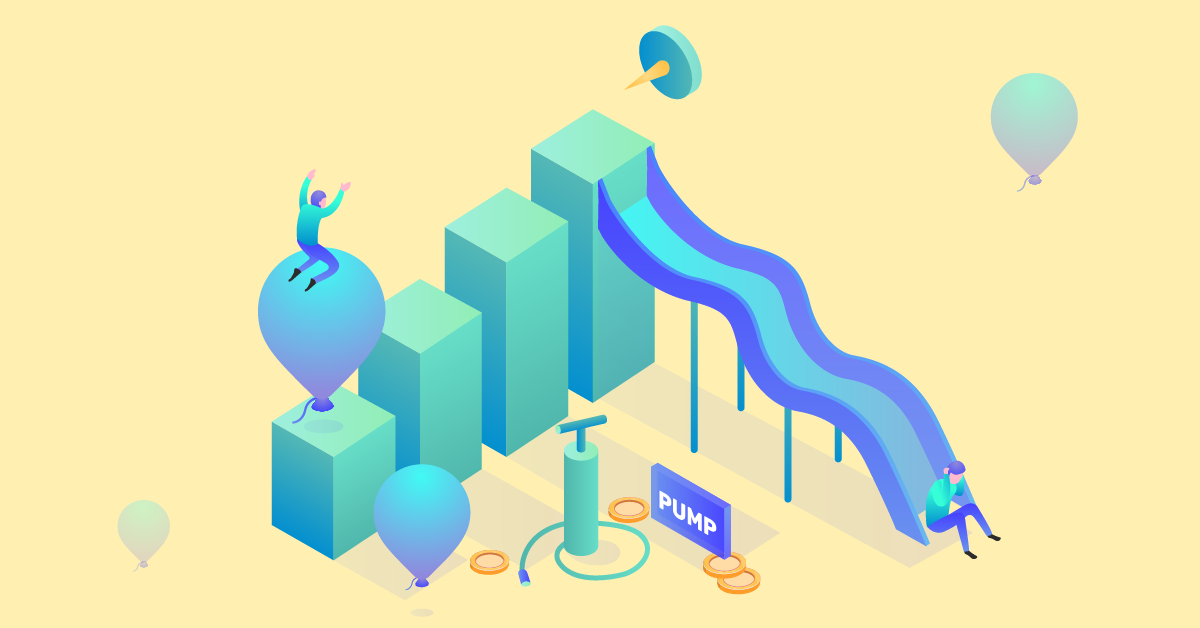 This article aims to provide insight into pump-and-dump schemes, a common type of cryptocurrency fraud. It references crypto and features steps to identify and avoid such schemes. If you are unfamiliar with DeFi, do read our introductory articles on blockchain, crypto, and decentralized finance (DeFi) before reading this article.
What Is a Pump-and-Dump?
In the Wolf of Wall Street, Jordan Belfort used misleading statements to sell penny stocks to people so he could inflate the price of his own shares. Similarly, a pump-and-dump scheme is a type of rug pull where a development team pumps or "hypes up" a project before abandoning it abruptly by selling or removing all its liquidity. There are three main types of rug pulls: liquidity theft, limiting sell orders, and pump-and-dump schemes.
In a typical pump-and-dump, projects are first "shilled" massively to drive a price hike. Once the token reaches its full potential, whales or large stakeholders start selling their tokens to incoming buyers rushing in. This usually causes a crash in token price due to substantial volume of tokens sold.
Notable Pump-and-Dump Projects
According to Chainalysis, pump-and-dump schemes have amounted to more than US$2.8B worth of crypto in 2021, and accounted for 37% of the crypto scam revenue for that year, an increase of 1% from 2020. Here are a few of the most notable pump-and-dump schemes of 2021.
1. SQUID Coin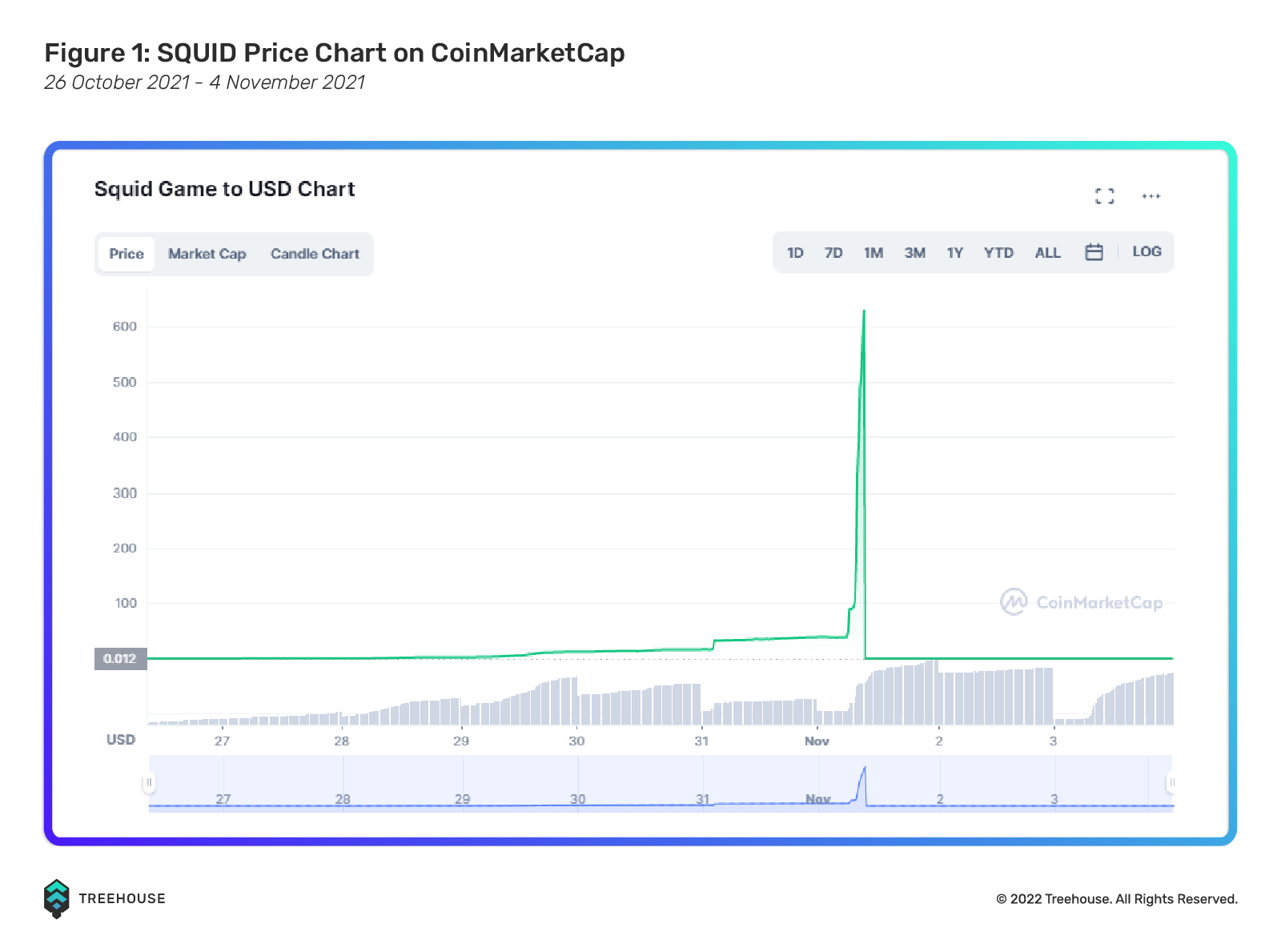 On 26 October 2021, a team of anonymous developers started a crypto project called the Squid Game coin. It was initially designed to be used in a play-to-earn game modeled after the Netflix blockbuster series. However, users quickly found themselves unable to sell their tokens with the "anti-dumping mechanism" set by the developers. Since there were only buyers and no sellers, the token's price began to soar and the team took the opportunity to "dump" their tokens, causing the token to drop by 99.9% of its peak value in a few days.
2. EthereumMax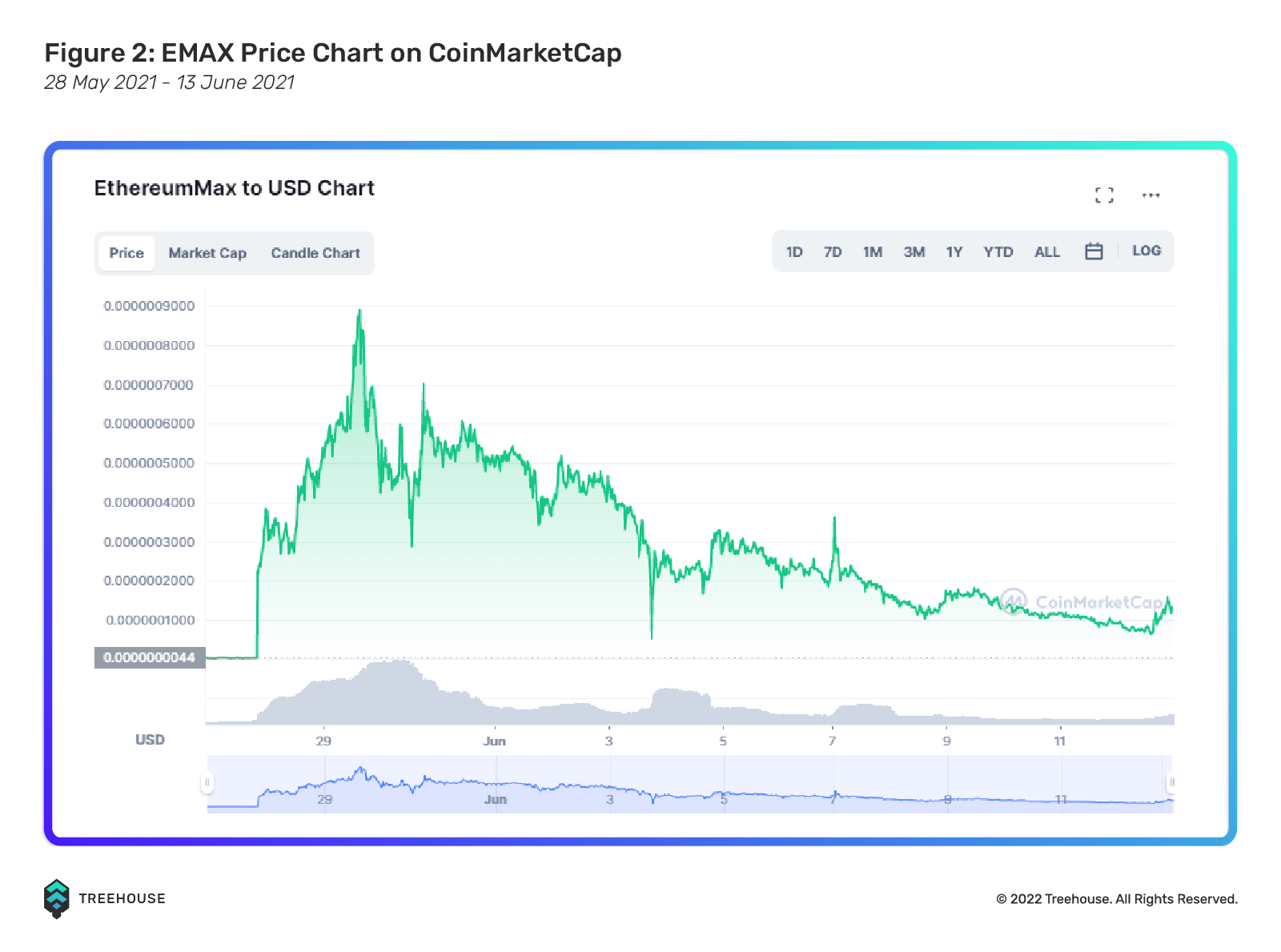 A class action lawsuit filed in January 2022 accused celebrities Kim Kardashian and Floyd Mayweather of artificially inflating the price of EthereumMax tokens (EMAX) and engaging in sell-offs when prices soared. EMAX prices saw a 98% dip a month after their promotional activity.
3. Market Manipulation of SLS on Bittrex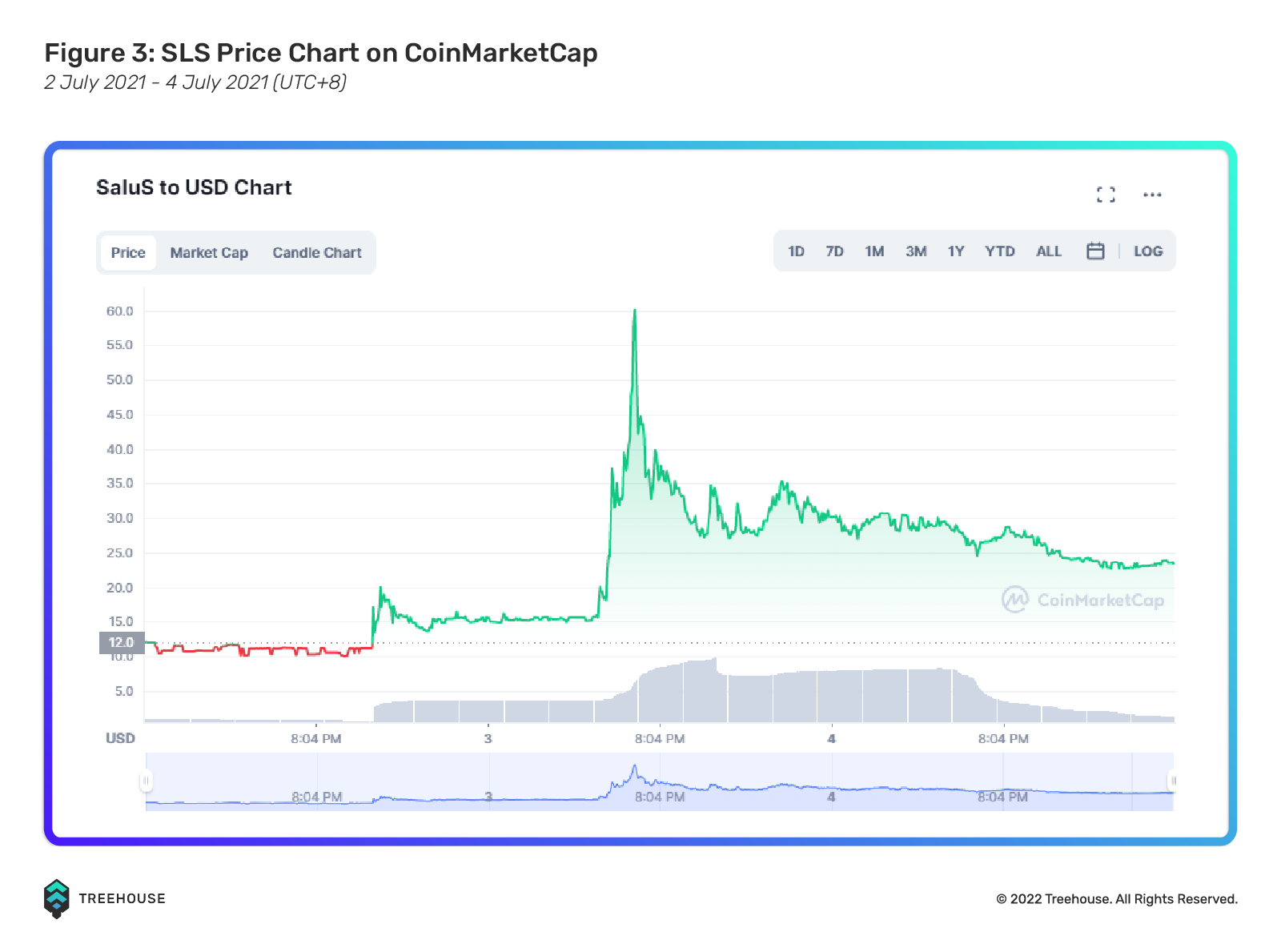 On 2 July 2017, the price of the SaLuS (SLS) token grew and fell 950% on Bittrex, a crypto exchange, through market manipulation by individuals that colluded via a pump-and-dump Telegram group. In just a day, SLS rocketed from US$11.61 to US$110 before plunging to US$14.90 after the dump.
How to Spot a Pump-and-Dump?
Since crypto is relatively new to the mainstream crowd, many users turn to crypto influencers for guidance. Social media and community building platforms such as Twitter, Discord, Reddit, and TikTok have become virtual gathering places for crypto investors and enthusiasts. However, due to their popularity, these platforms have become targets for facilitating pump-and-dump schemes.
Many unassuming users can lose a lot of money from pump-and-dump schemes, but falling into these traps can be prevented by doing your own research (DYOR). Here are some tell-tale signs of a pump-and-dump:
1. Anonymous Founders
While anonymity and user privacy are two advantages of crypto, some unethical founders have used this to hide from liability. It is wise to thoroughly research the core team members behind a project, especially if its founders are already doxxed or have their identities revealed to the public. This does not only include looking up personal information of the team, but also other relevant information such as the tokenomics, whitepaper, and investors of the project.
2. Price Movements
A key indicator of a pump-and-dump scheme is sharp price movements. While price swings may seem normal, especially in crypto, a pump-and-dump is a coordinated action among a group of schemers that can cause a token's value to fall as quickly as it rose for no discernible reason. There are also online applications that can alert users about less credible projects. For instance, Harvest by Treehouse flags high-risk tokens in your wallet that are not widely recognized. This can help with identifying projects that might need reviewing!
3. Market Capitalization
The market capitalization of a coin is the total value of a cryptocurrency at a given point in time, which can be calculated by multiplying the token's value with its circulating supply. Pump-and-dump schemes target low market cap coins more frequently because these coins often exhibit less trading activity and hence, lower liquidity making them more susceptible to price manipulation by bad actors.
4. Project Development and Roadmap
A project that lacks a detailed roadmap or constantly lags behind its proposed plans hints at poor planning and can be seen as suspicious. Any project that does not seem to have a concrete and solid plan for the future could be a potential pump-and-dump scheme. It is always important to DYOR before investing in any project.
Conclusion
The best way to avoid buying into a potential pump-and-dump crypto scam is to observe how a coin trades over time, and to do your due diligence by researching the project. This includes studying its roadmap, tokenomics, and development team. Social media platforms such as Twitter and Reddit can also serve as good sources to get a gauge of public sentiment towards projects, though discretion should be exercised. Stay safe, and always remember that if something seems "too good to be true", it probably is.
At Treehouse, we want to empower people to navigate DeFi confidently, and this includes helping users with understanding and assessing risk properly. In case you missed it, check out our recommended list of risk-related pieces!
New to DeFi? If you found this useful, check out our other Learn DeFi articles to dive deeper into the wonderful world of DeFi! Alternatively, browse our Insights section to read more in-depth analyses on the DeFi space. You can also try out our flagship product, Harvest, to get a comprehensive analysis of your DeFi assets. Lastly, subscribe to newsletter updates in the box below!
Disclaimer
This publication is provided for informational and entertainment purposes only. Nothing contained in this publication constitutes financial advice, trading advice, or any other advice, nor does it constitute an offer to buy or sell securities or any other assets or participate in any particular trading strategy. This publication does not take into account your personal investment objectives, financial situation, or needs. Treehouse does not warrant that the information provided in this publication is up to date or accurate.