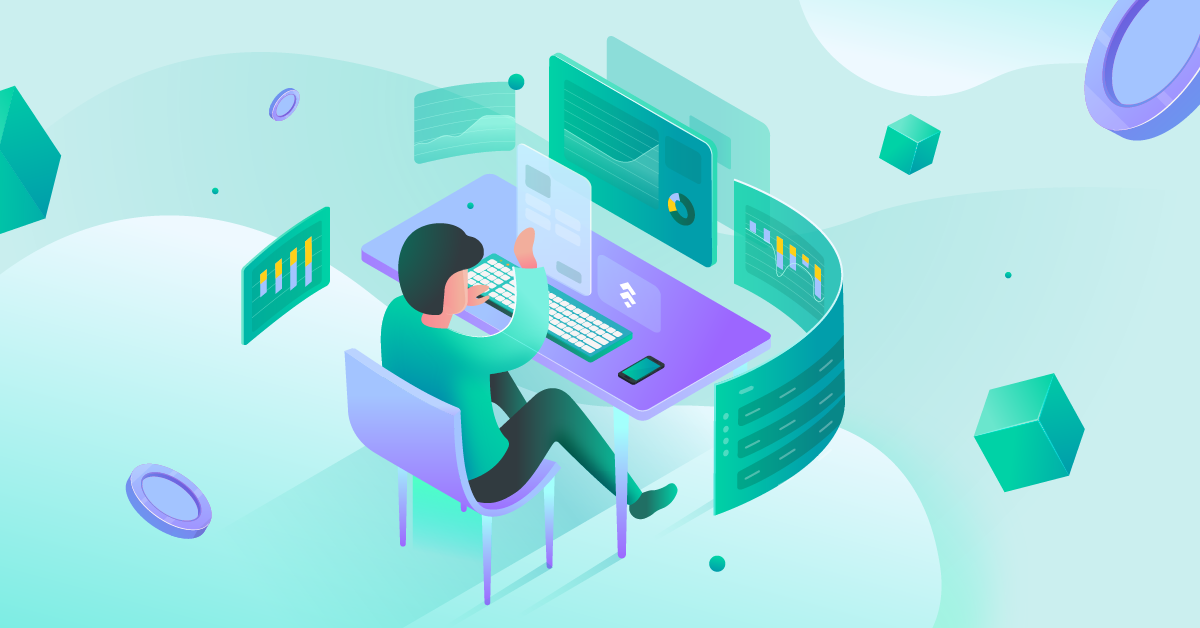 This article aims to provide an overview of tracking your crypto assets using portfolio trackers. If you are unfamiliar with cryptocurrencies and decentralized finance, read our introductory articles on cryptocurrency and DeFi. You might want to read our pieces on wallets and Do Your Own Research (DYOR) as well.
Why Do You Need a Portfolio Management Tool?
If you are a DeFi user, keeping track of your DeFi positions can be excruciating, especially if your assets are locked across many different protocols and chains. With the help of a DeFi portfolio management tool such as Harvest by Treehouse, you can save yourself the trouble of tracking your portfolio manually by creating and maintaining spreadsheets.
Harvest analyzes on-chain data across wallets to provide a comprehensive breakdown of your positions, presented in simple and readable formats. This article will outline how Harvest can help users like you visualize your positions meaningfully, so that you can make better investment decisions.
Harvest Onboarding
There are two ways to link your wallets to Harvest.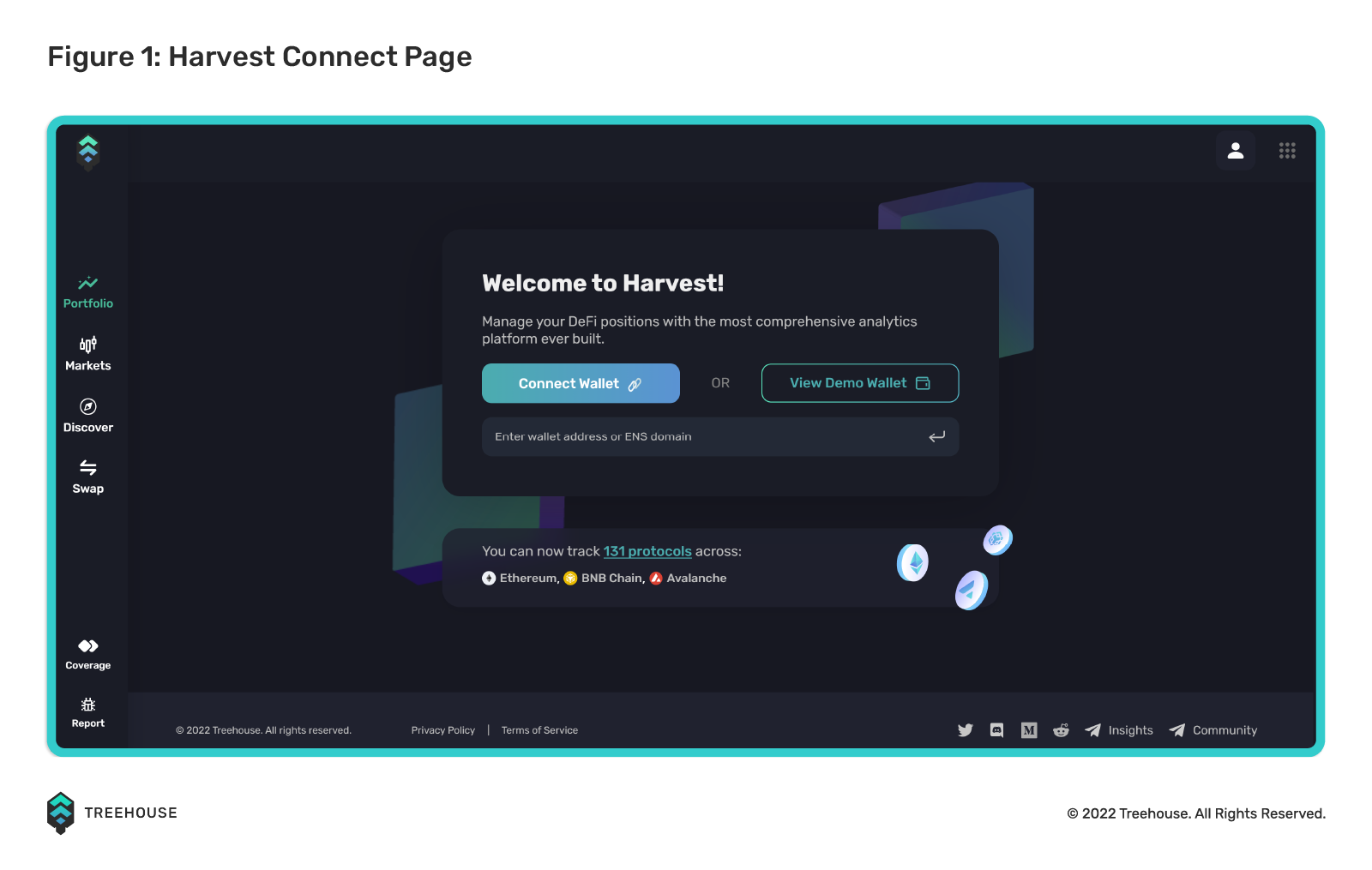 1. Connect Your Wallet
Firstly, you can connect your wallets directly with Harvest to easily access a breakdown of your portfolio. Harvest currently supports MetaMask, WalletConnect, Ledger, and Trezor.
Connecting your wallet automatically creates a Harvest User Profile, enabling you to personalize your portfolio management experience. Through this, you can connect or watch up to six wallets at a time. Additionally, you can also add up to 50 wallets to your Address Book.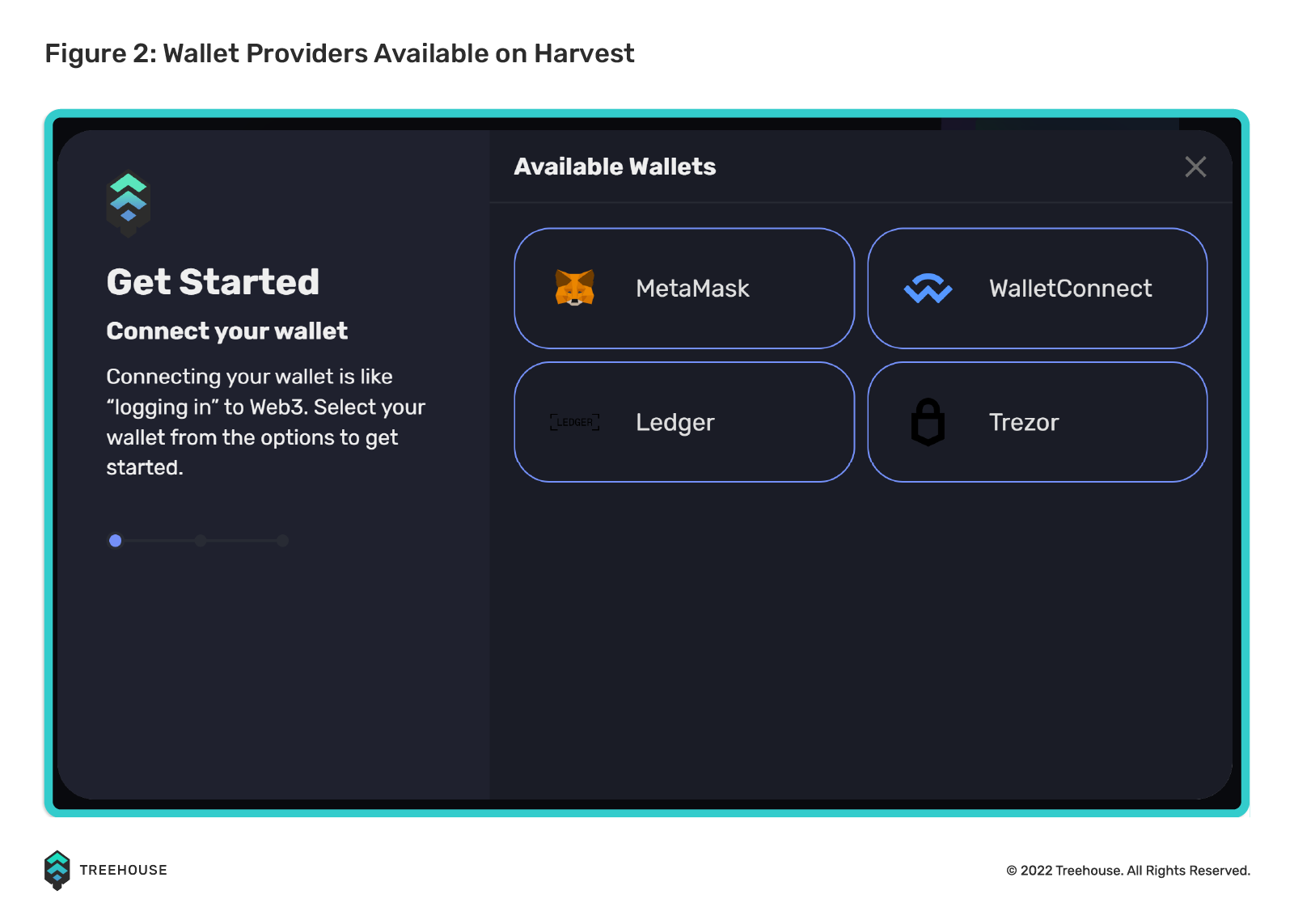 2. Paste Your Wallet Address
Alternatively, you can paste your wallet address or ENS domain in the field provided on the Harvest Connect page. However, this will not create a Harvest User Profile, and you will only be able to watch up to three wallets at once. Full access is only available if you sign in to a Harvest User Profile.
3. Try Our Demo Wallet
If you are new to DeFi and curious about how Harvest works before diving in, explore the platform with our demo wallet. Try it here!
What Can You Find Out from Harvest Portfolio?
Harvest provides various features for you to track essential metrics so you can make sense of your portfolio. The Portfolio Overview feature breaks down your portfolio into three sections: a summary of your key portfolio metrics, Wallet Assets, and Productive Assets. You can also track all your past DeFi transactions across multiple wallets on the History page.
Summary of Your Key Portfolio Metrics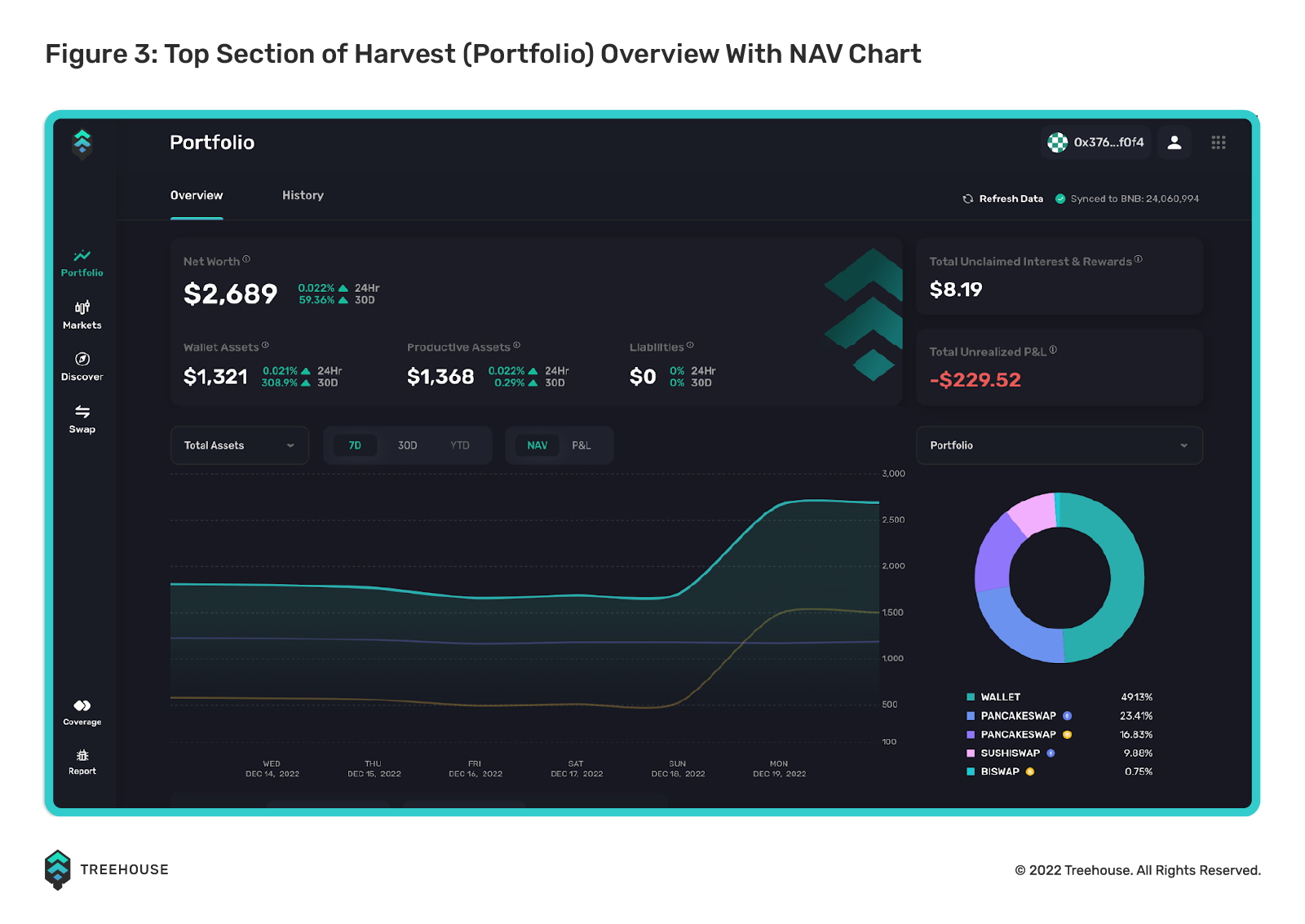 Harvest provides an overview of all your connected wallets, including your overall net worth, total unclaimed interest and rewards (IR), and total unrealized profit and loss (P&L).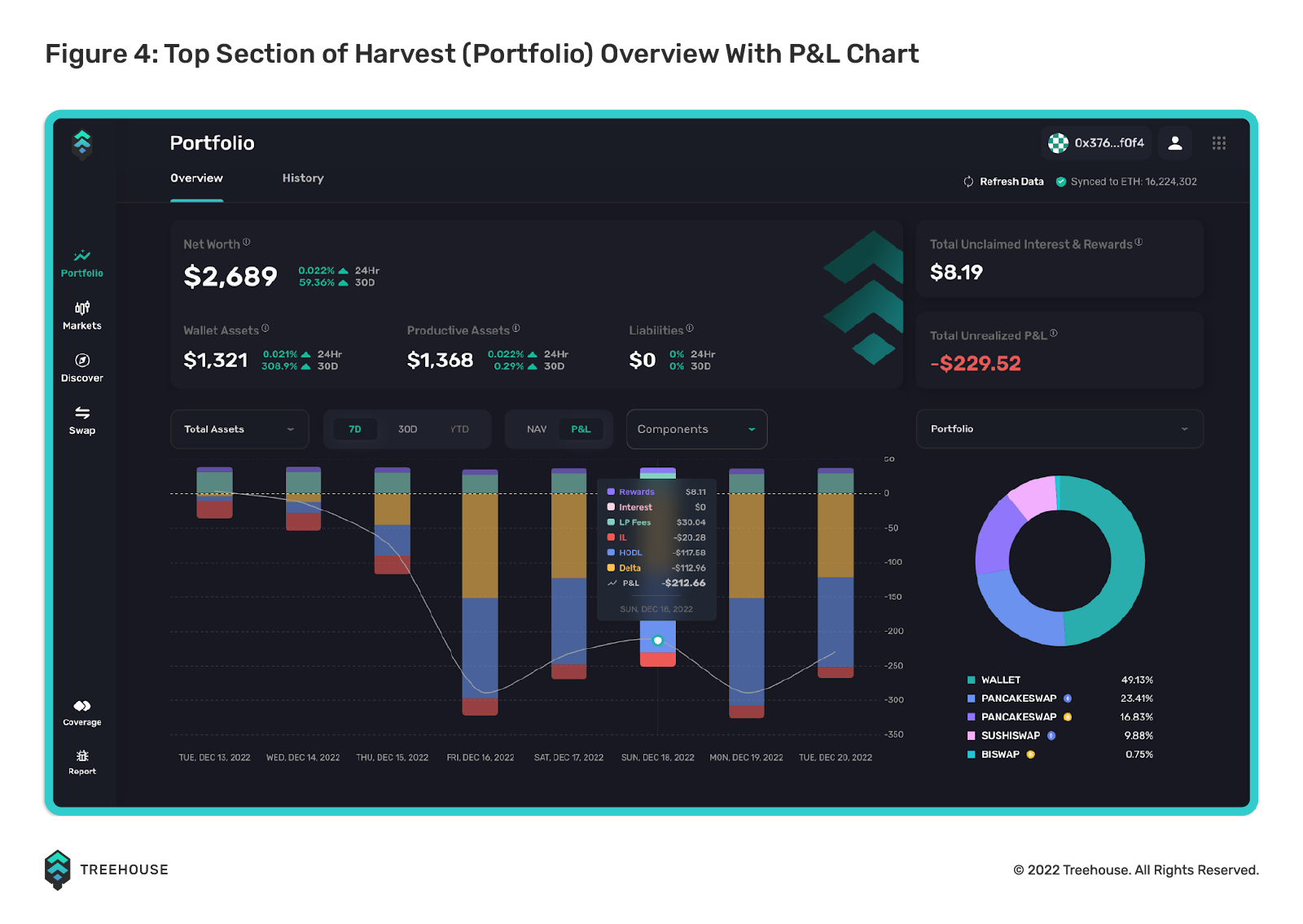 Net Worth = Wallet Assets + Productive Assets – Liabilities
Wallet Assets: Assets not interacting with DeFi protocols
Productive Assets: Assets generating yield in DeFi protocols
Liabilities: Assets borrowed from DeFi protocols
As shown in Figures 3 and 4, the top section of the Portfolio Overview page also shows the charts of your portfolio's net asset value (NAV), P&L, and asset allocation.
Net Asset Value (NAV) Chart
The NAV chart depicts the net worth of your portfolio across a 7-day or 30-day period. Toggling among Total Assets, Wallet Assets, and Productive Assets changes all the graphs accordingly. You can also filter to view your aggregate positions across the chains supported by Harvest: BNB Chain, Ethereum, and Avalanche.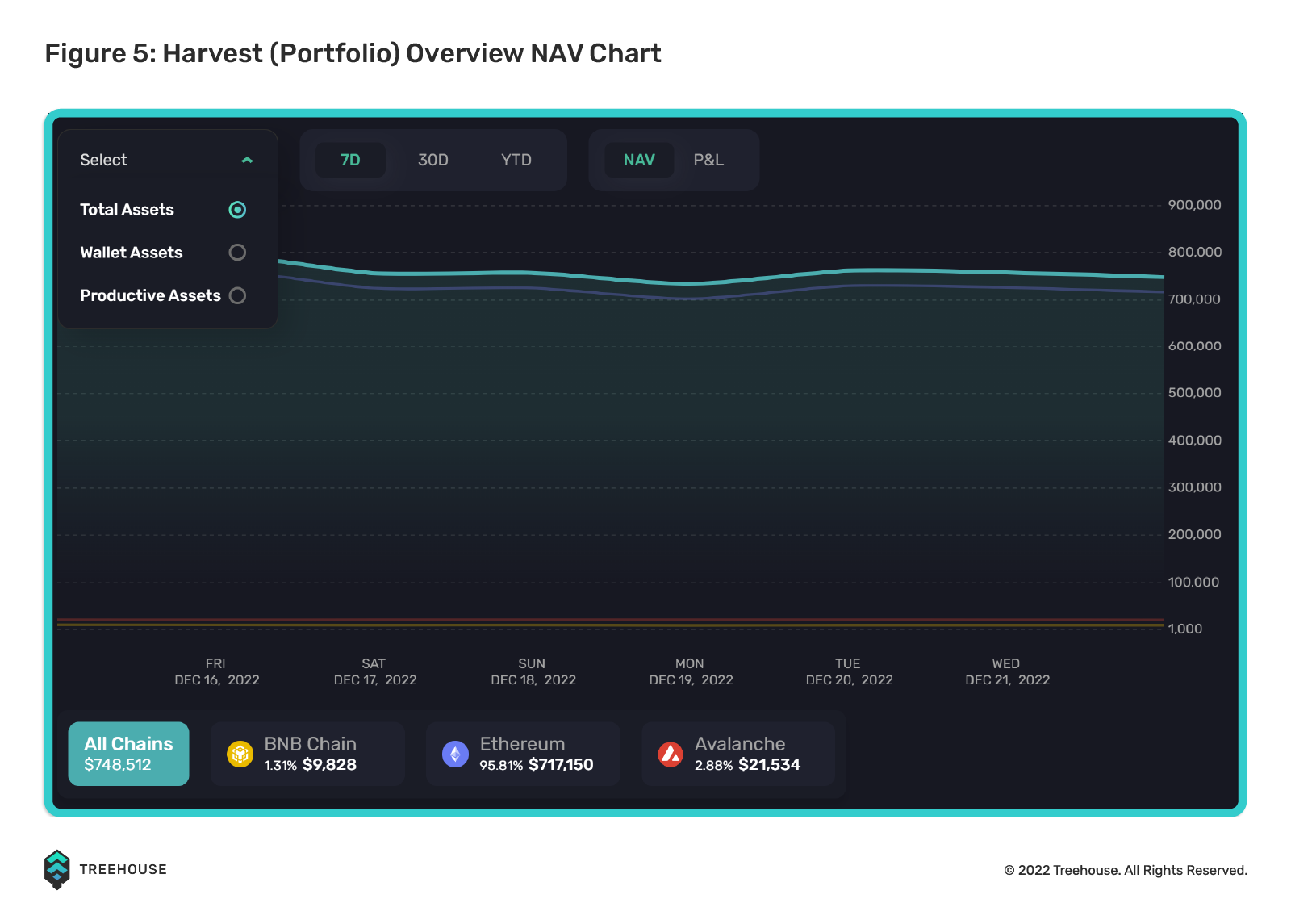 P&L Chart
The P&L chart breaks down the P&L of your portfolio into several components that can be filtered and adjusted. These components include Impermanent Loss (IL), HODL, Delta, and Earnings (LP Fees, Interest, and Rewards). P&L data is currently available for viewing only for the last 7-day or 30-day periods (year-to-date (YTD) information will be available soon). You may also toggle between showing your Total Assets, Wallet Assets, and Productive Assets across BNB Chain, Ethereum, and Avalanche.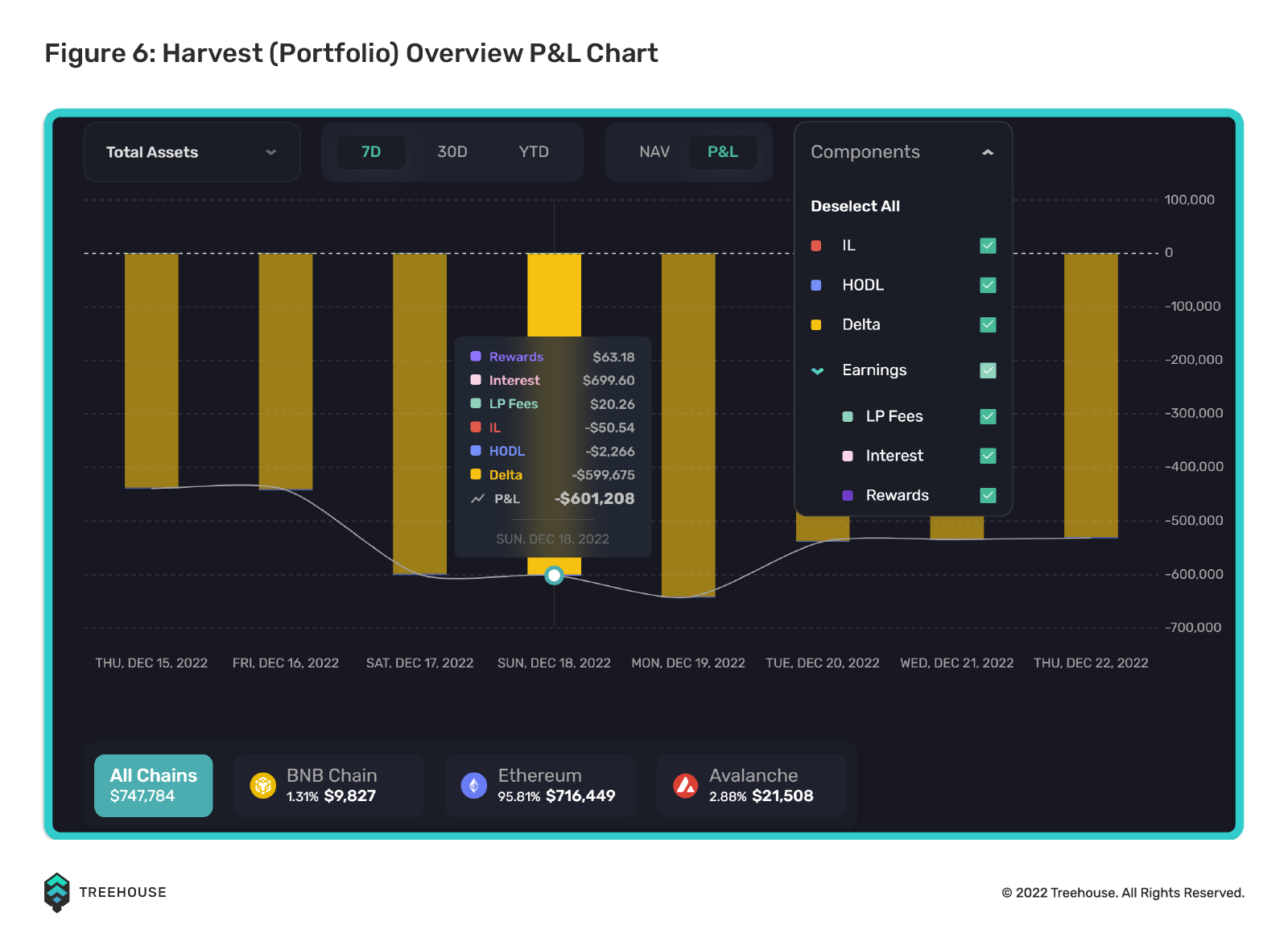 Total P&L = Rewards Earned + Interest Earned + LP Fees + Impermanent Loss + HODL P&L
Rewards Earned: Unclaimed tokens earned from liquidity mining
Interest Earned: Unclaimed tokens earned from staking
Liquidity Provider (LP) Fees: Estimated fees earned from providing liquidity
IL: Estimated loss suffered on an LP position due to liquidity provision
HODL P&L: Delta of the underlying principal
Portfolio Allocation Chart
The portfolio allocation chart features a breakdown of both your portfolio and token allocation. This allows you to view the makeup of your assets so you can better diversify.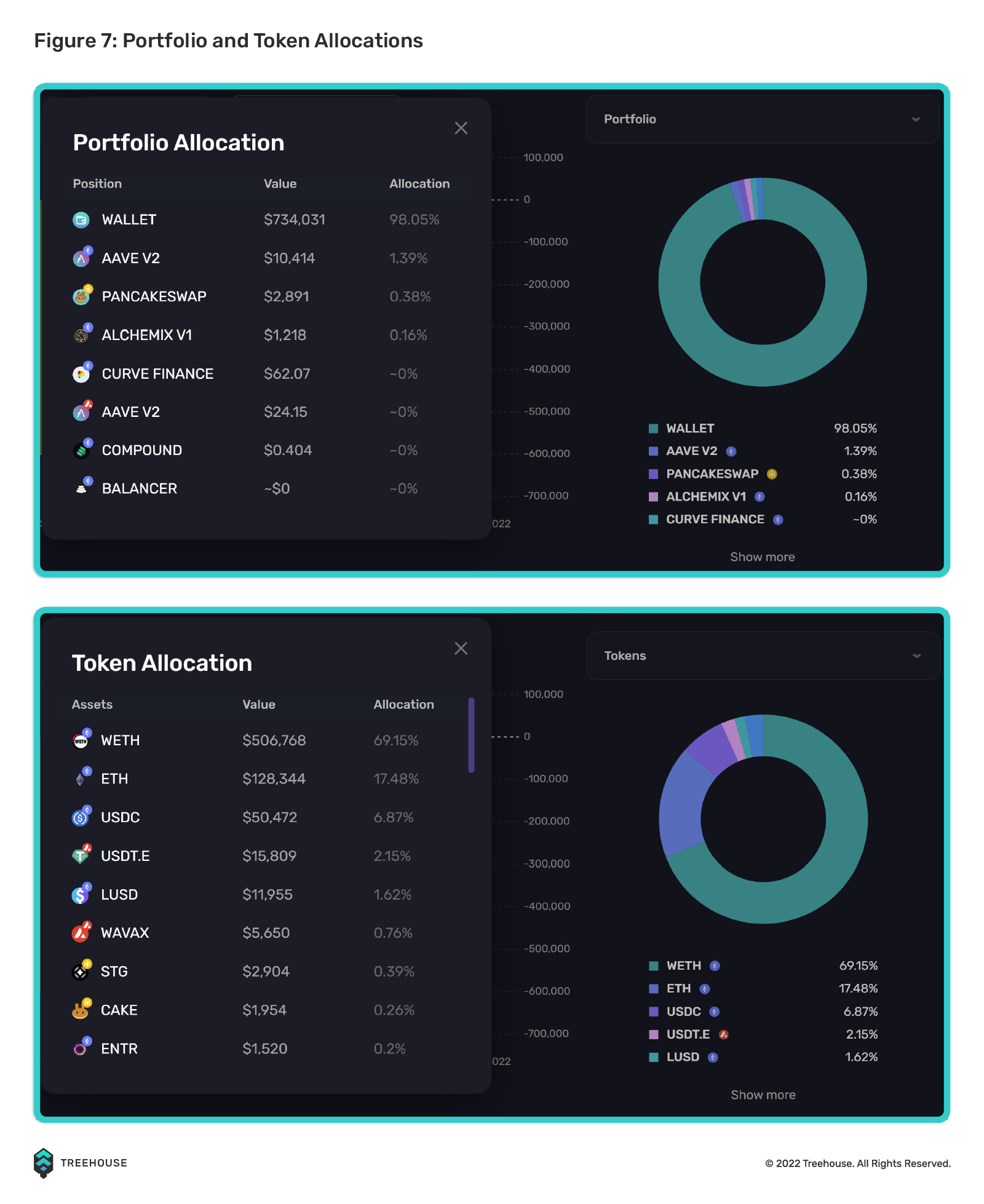 Wallet Assets
Harvest displays a breakdown of your Wallet Assets, providing metrics that will help you better understand the positioning of your portfolio.
The metrics include:
Quantity: Token balance
Cost Price: Average cost per token, calculated using the historical end-of-day (EOD) price of every transaction event
Current Price: Last market observed token price, updated every 15 minutes
Cost Basis: Holding cost of tokens (quantity × cost price)
Current Value: Current position value (quantity × current price)
Total P&L: Unrealized P&L (current value – cost basis)
Clicking into any of the assets will also provide you with information about the particular protocol, and an easy-access button to add the token to your MetaMask wallet. These data can help you with accounting, daily market-to-market trading, reporting, and even taxes.
Productive Assets
This section reveals information from analyzing productive asset types, including LP token farming, single asset staking, borrowing, and lending, to name a few. Currently, more than 130 DeFi protocols have been integrated with the platform. These include automated market makers (AMMs), money markets, staked tokens, and vaults.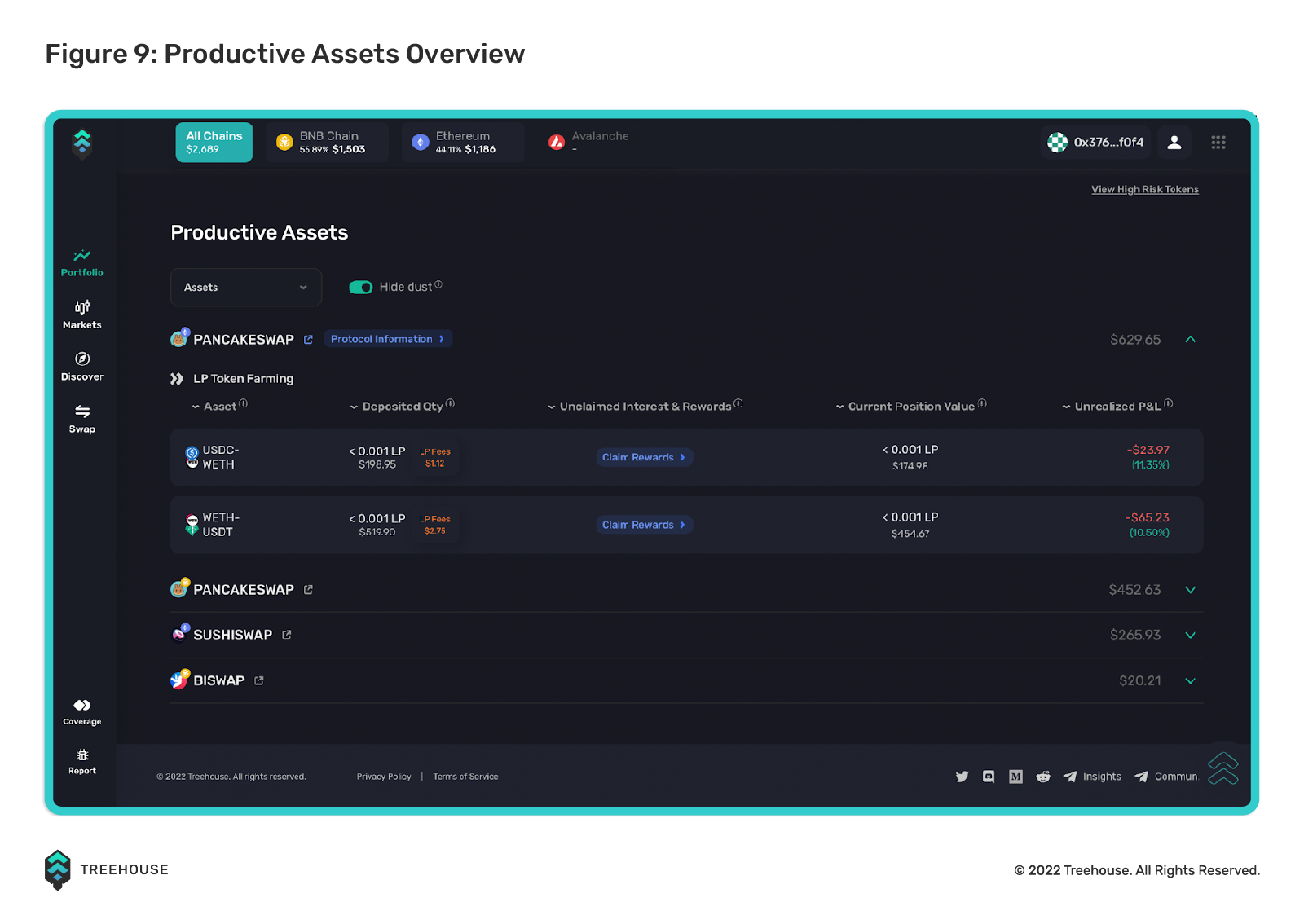 Each protocol and asset type has a customized page that shows you the most relevant performance metrics so you can make sense of your positions.
Learn more about the 23 asset types supported by Harvest here:
Performance
The performance analysis of each productive position displays different metrics suited for that particular asset type. This deep dive feature can be further broken down into multiple sections depending on the protocol and asset type. Below is an example of a productive asset deep dive for CAKE/WBNB PancakeSwap LP token farming. It is broken down into the following sections: Summary, Interest & Rewards, Current P&L, and Historical P&L.
1. Summary
In the summary section, you can get an overview of your position in an asset. Apart from being able to view the current value of your tokens, you can also view the cost basis of your initial deposited quantity, unrealized P&L, and estimated LP fees.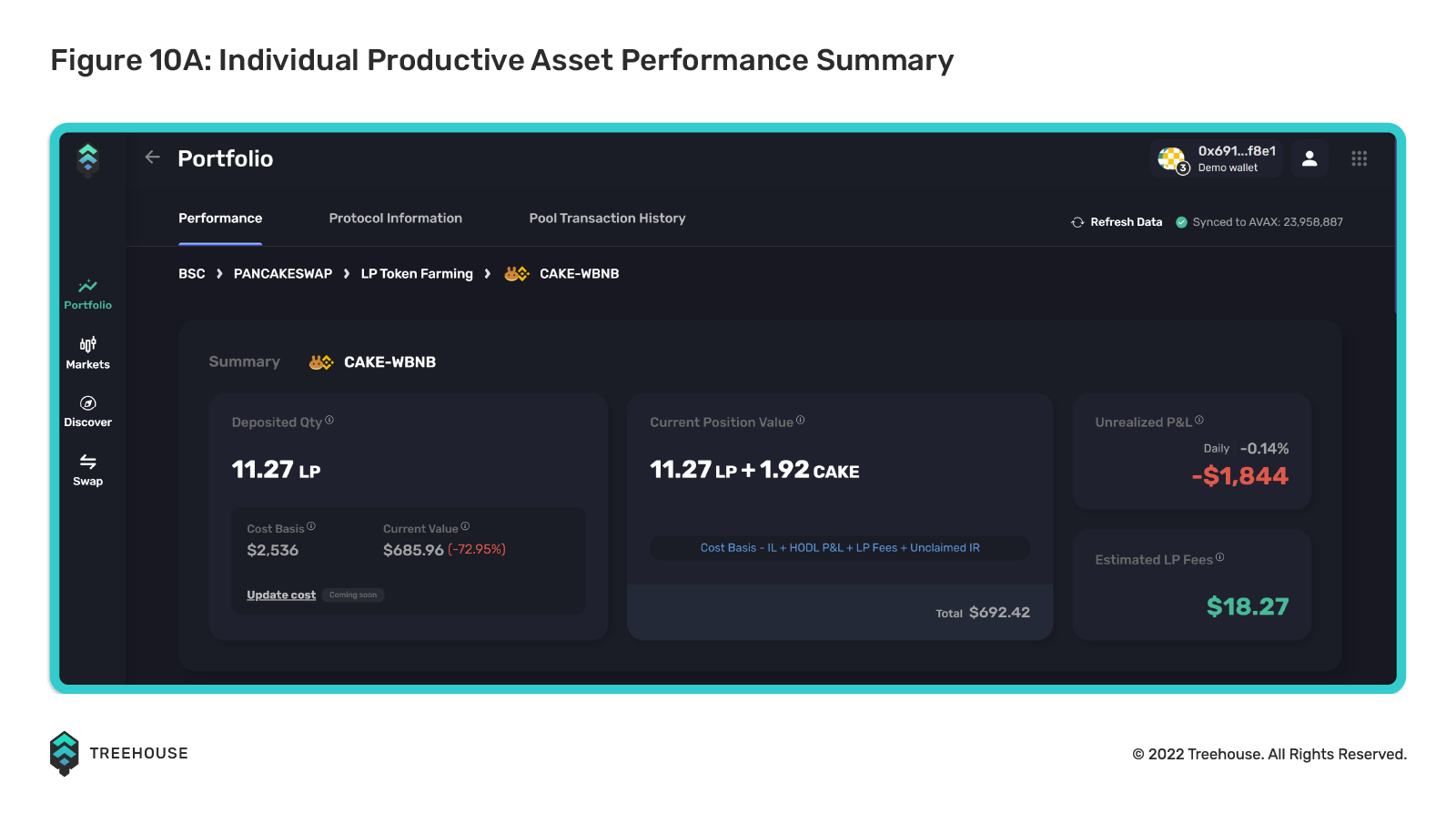 2. Interest & Rewards
Under IR, you can see your asset's annual percentage rate (APR) and annual percentage yield (APY), unclaimed IR, and projected time-weighted return. Harvest also provides daily, weekly, monthly, quarterly, and yearly APR projections for your position.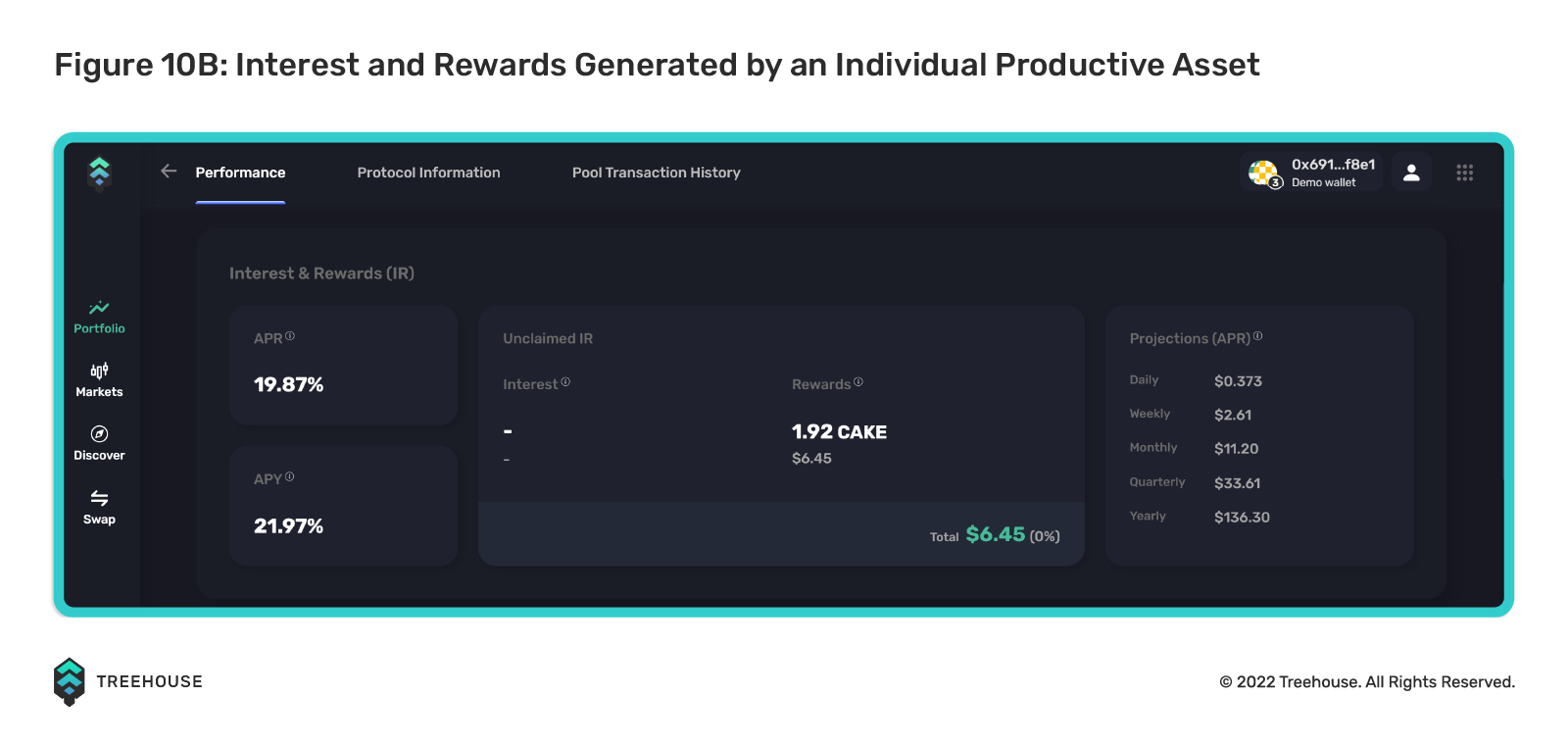 3. Current P&L
Harvest's Current P&L gives you a graphical and tabular snapshot of the deposited quantity of your assets, IL, and a real-time update on your position's P&L, inclusive of its HODL P&L, estimated LP fees, and rewards. You can also get information on the current value of the tokens in a liquidity pool.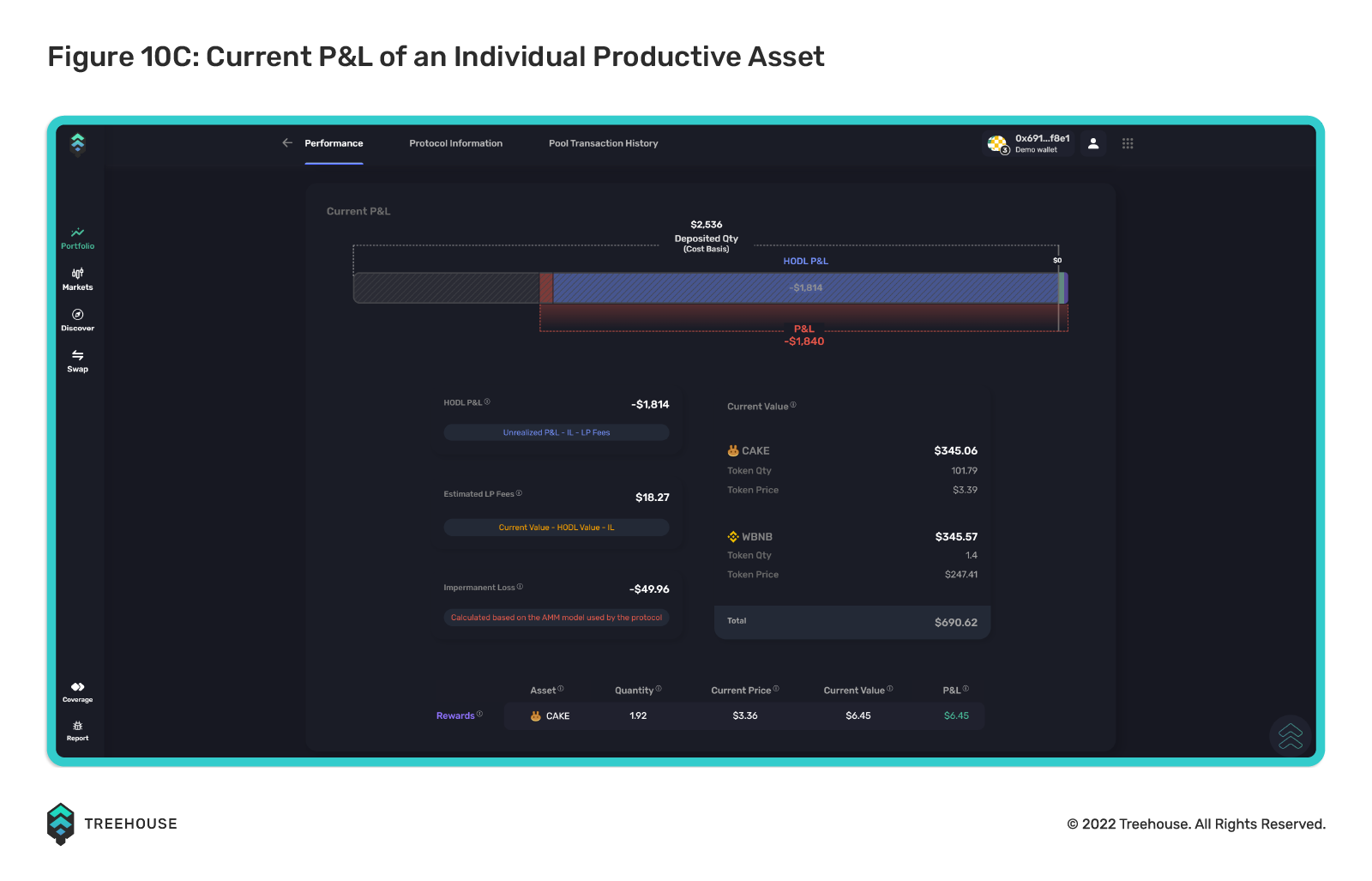 4. Historical P&L
Harvest's Historical P&L gives you a graphical representation of your total P&L with a breakdown of your IL, HODL Fees, estimated LP fees, and IR earned across a 7-day and 30-day period.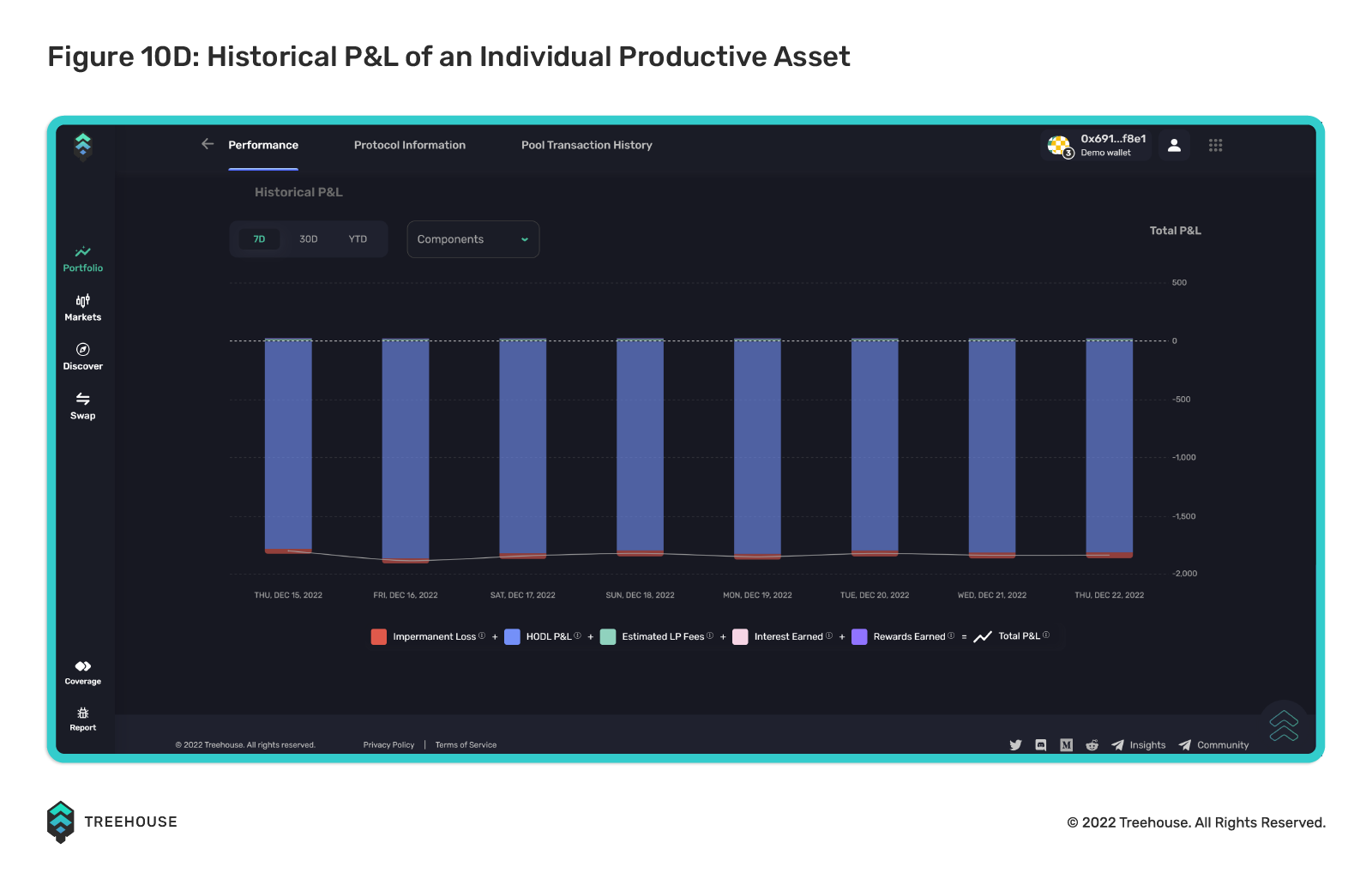 Pool Transaction History
The Pool Transaction History feature for each productive asset position shows you all the transactions related to a unique position, as well as the total IR earned, and the cumulative gas fees spent on this position.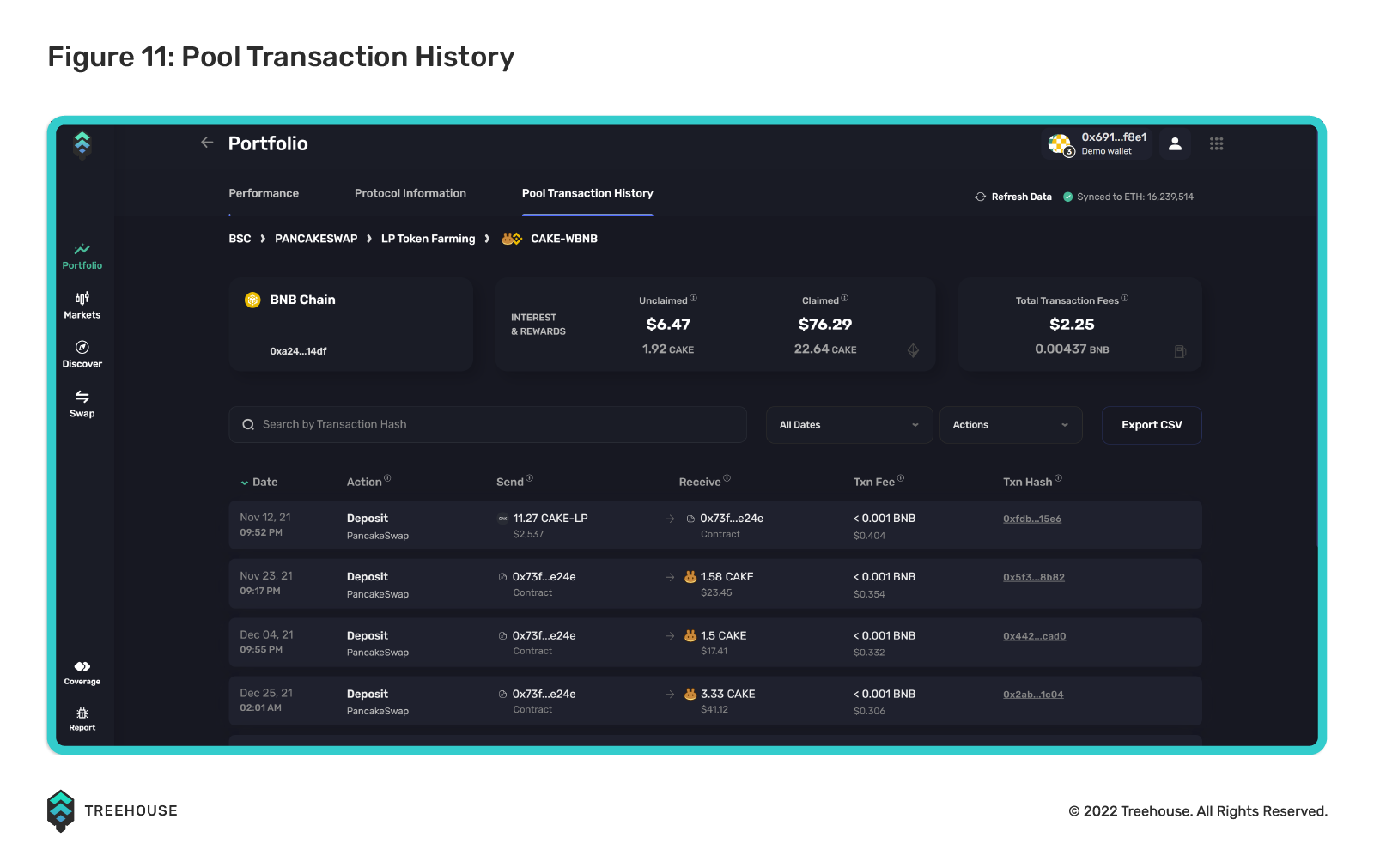 Comparing Your Portfolio to the Market
Apart from helping you to assess your portfolio through meaningful metrics, Harvest now allows you to track, monitor, discover, and swap! More information can be found here!
Harvest's Markets page helps you track market movements and also acts as a do your own research (DYOR) tool, allowing you to benchmark your portfolio against the market.
Harvest Markets
With Markets, you can keep tabs on both crypto and traditional finance (TradFi) markets, as well as real-time news updates. You can also choose between three suggested views based on the type of DeFi user you are: Trader, Investor, and Researcher views.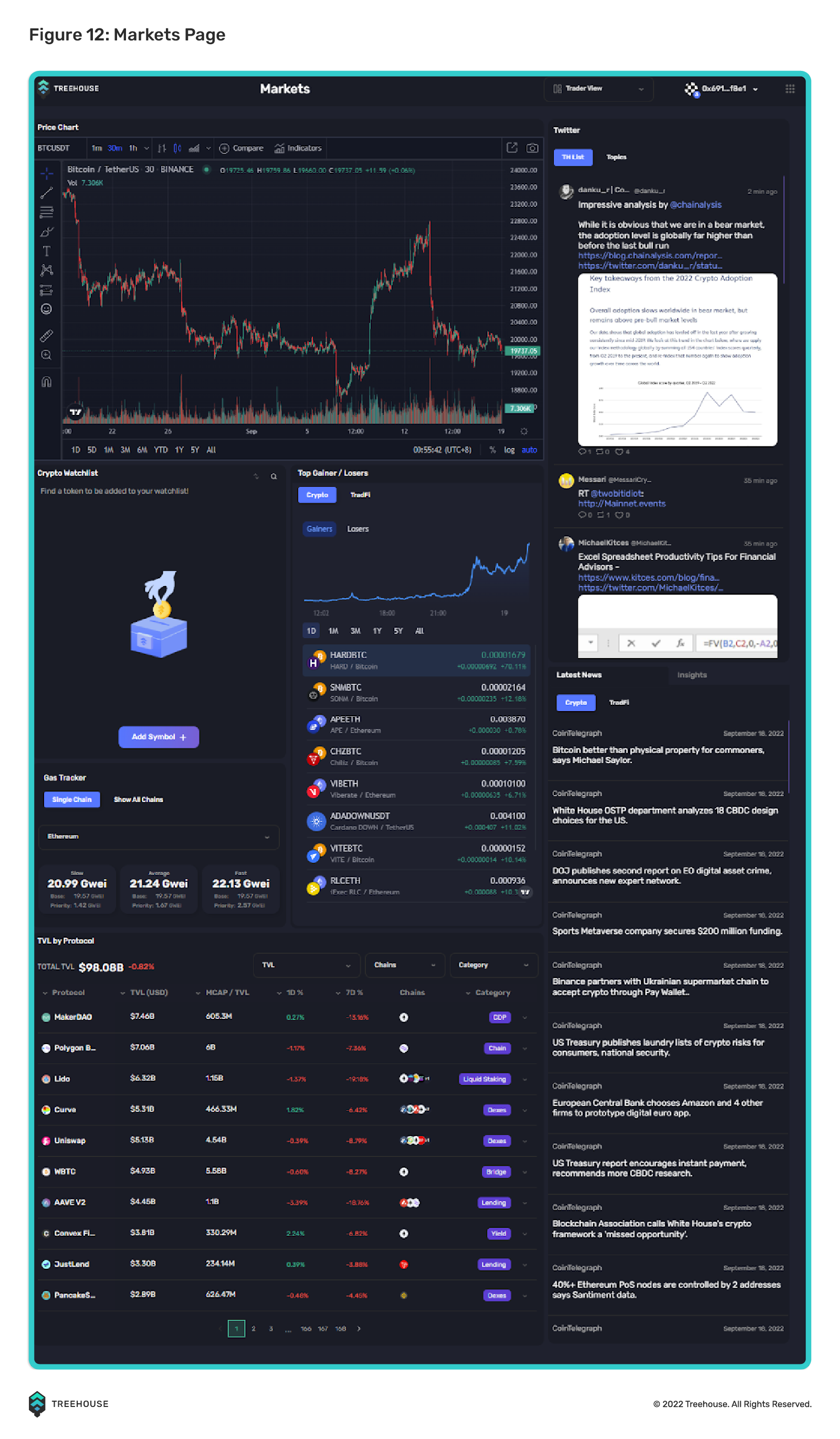 Here's a summary of Markets' features/widgets:
Price Chart presents real-time pricing data for both digital and traditional assets with various viewing, comparison, and annotation functionality
Watchlist allows you to add tokens to monitor their one-day absolute and percentage price change
Top Gainers / Losers is where you can find the crypto and TradFi assets that registered the most gains and losses over varying time periods
Gas Tracker shows you the gas fees for Ethereum, Avalanche, and BNB Chain.
Total Value Locked (TVL) by Protocol lets you track the TVL and market capitalization of the universe of protocols. Filter by TVL, Chain, and Category to explore the protocols available.
Twitter Top Picks feed comprises accounts followed by Treehouse Research, and a Topics feed, which currently displays tweets related to Bitcoin, Ethereum, Layer-1s, and Layer-2s
Latest News lists the daily readings delivered by Treehouse Daily, while Insights showcases the in-depth analyses written by Treehouse Research
If you need a recap, check out our Harvest walkthrough on Youtube:
Conclusion
A DeFi portfolio management tool like Harvest is essential to support you through your entire investment journey by helping you understand your on-chain positions and aiding with risk management so you can make better crypto investment decisions.
As DeFi approaches mass adoption and more users enter the space from Centralized Finance (CeFi) platforms or TradFi, there is an increasing need for applications that can help users handle, manage, and make sense of their DeFi assets easily, while assessing the risks involved in various investment strategies and protocols.
Disclaimer
This publication is provided for informational and entertainment purposes only. Nothing contained in this publication constitutes financial advice, trading advice, or any other advice, nor does it constitute an offer to buy or sell securities or any other assets or participate in any particular trading strategy. This publication does not take into account your personal investment objectives, financial situation, or needs. Treehouse does not warrant that the information provided in this publication is up to date or accurate.
New to DeFi? If you found this useful, check out our other Learn DeFi articles to dive deeper into the wonderful world of DeFi! Alternatively, browse our Insights section to read more in-depth analyses on the DeFi space. You can also try out our flagship product, Harvest, to get a comprehensive analysis of your DeFi assets. Lastly, subscribe to newsletter updates in the box below!