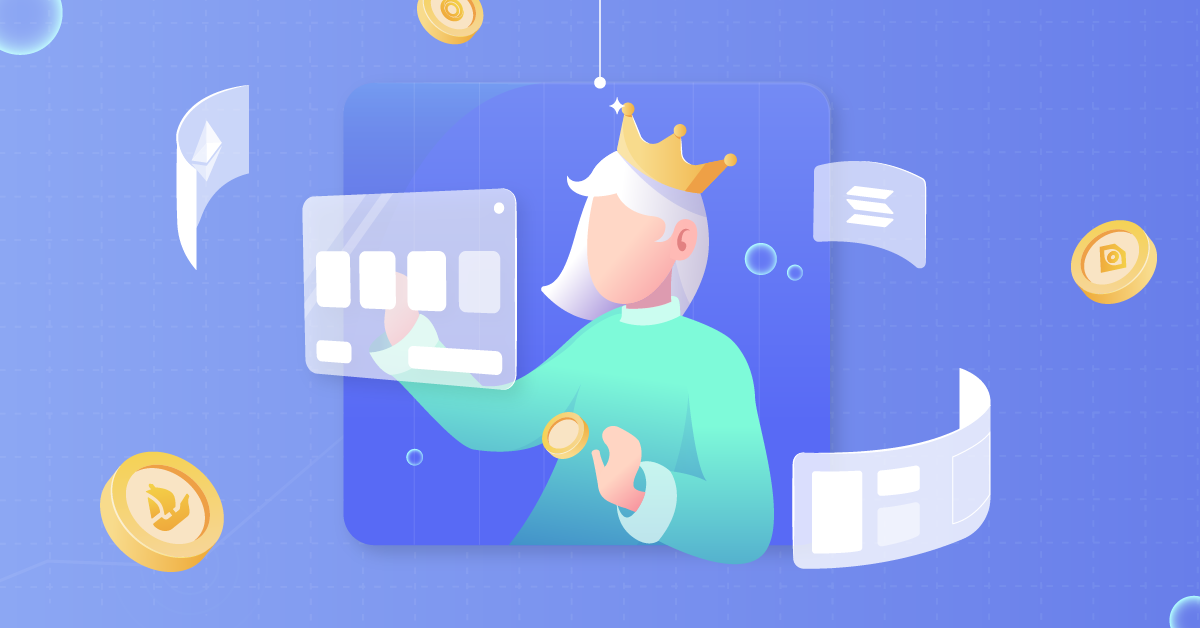 This article aims to provide an overview of royalties for non-fungible tokens (NFTs). If you are unfamiliar with NFTs and cryptocurrency, do check out our introductory articles on crypto, NFTs, and NFT marketplaces before reading this article.
An Introduction to Royalties in NFTs
Royalties are one of the most significant pull factors that attract creatives into the NFT space because of the validation and compensation creators get from their work. Quoting from GordonGoner, the founder of Bored Ape Yacht Club, royalties are "something that was previously reserved for record labels or brick and mortar auction houses. And to boot, it's all transparent, on the blockchain—right there for anyone to see." Creators can either set their desired royalties on the platform they are using to sell their work, or manually code them into the smart contracts. Currently, there is a massive ongoing debacle within the space regarding how creator royalties should be implemented and whether or not they should be enforced.
How Do Royalties Work in Web3?
There are mainly three entities involved: the NFT creators, the NFT collectors, and the NFT marketplaces. Whenever collectors sell an NFT in a marketplace like OpenSea, they will receive the sale price minus the fees. The fees usually include marketplace fees and creator royalties, which go to the NFT creators. Creators will receive periodic payouts based on the percentage they have set for the royalties and the total transaction volume for a specific established time frame.
There are currently two schools of thought on the direction of royalties in Web3: enforced royalties and flexible royalties. Enforced royalties are creator royalties implemented by marketplaces, while flexible royalties give users the liberty to adjust the amount they are willing to pay.
Yes to Royalties..?
Most creators in the Web3 space support NFT marketplaces' enforcing of creator royalties on collections. There have been many debates on the possibility of marketplaces implementing flexible royalties, allowing them to gain more transaction volume and traction while reducing buyer fees. Many creators have expressed frustration since various NFT marketplaces have chosen not to enforce royalties. Due to this pushback, NFT marketplace X2Y2, which pioneered the use of flexible royalties in the space, decided to flip its decision in November 2022, stating that it will "enforce royalties on all collections".
Betty, CEO, and creator of the NFT project Deadfellaz, said that forgoing creator royalties will result in projects depending on Venture Capital (VC) funding to sustain themselves. Similarly, Frank DeGods, founder of the top Solana NFT project, DeGods, also mentioned that having royalties benefits both NFT creators and holders because they ensure cheaper mints and fewer project rugs.
Flexible Royalties..?
Many users support the need for royalties, but some see royalties as a double-edged sword. Those who insist on flexible royalties bring up the problem that many projects with premium fees end up rugging unassuming holders. In those cases, royalties end up funding bad actors who have no intention of building their projects. Several prominent users have also stated that there are better alternatives.
Beeple, one of the most prolific NFT artists, mentioned that there is no way to force royalties within blockchain technology. Creators and founders have to build their communities from the ground up so that users see the value in their collections and honor the royalties that have been set. Punk6529, a prominent influencer in the space, also pointed out that "you cannot make royalties enforceable onchain." Royalties are not technical conventions but mere social conventions rooted in Web2 traditions with the presence of centralized authorities. Hence, Web3 creators must understand this difference and adapt accordingly.
Who Stands Where?
The Role of NFT Marketplaces
NFT marketplaces play a massive role in enforcing royalties. It is these platforms that connect creators and collectors. As such, the rules set in place by these platforms shape the way that users will interact with NFTs. Marketplaces such as LooksRare and Blur have implemented flexible royalties where users can decide if they want to pay royalties. On the other hand, OpenSea, X2Y2, and Rarible have enforced royalties.
OpenSea's Influence
On 6 November 2022, OpenSea announced that they will launch a tool for on-chain enforcement of royalties for new collections. In addition, OpenSea will turn off all royalties for collections that do not blacklist "optional royalty" marketplaces such as Blur. This means that creators will get zero revenue on the secondary market for those collections.
Since OpenSea is the top marketplace in transactional volume, newer projects that disagree with their enforcement of royalties, and choose not to list on OpenSea, will lose out in terms of royalties and visibility on the most popular marketplace. This "monopoly" diminishes the market share of flexible marketplaces like Blur, forcing them to come up with alternatives. For instance, Blur stated that they would enforce royalties on permissioned NFTs while taking 0% fees for themselves, emphasizing that creators should use their own code to block marketplaces that do not enforce royalties rather than relying on OpenSea's "permissioned assets". Blur raised concerns that, in time to come, this will enable OpenSea to transfer and move permissioned assets, possibly leading to centralization and regulation risks to NFTs.
Conclusion
There will likely always be differing perspectives towards royalties in the NFT space, and only time will tell if this debacle will ever resolve in a consensus. This is not surprising due to the nascency of the crypto and NFT space. With the ever-improving technology, perhaps better alternatives to the current royalty models will surface in time to come. Nonetheless, creators and founders of projects should always earn the trust of their users by building a reliable following, community, and product. This way, users can justify the royalties or fees they are expected to pay.
Disclaimer
This publication is provided for informational and entertainment purposes only. Nothing contained in this publication constitutes financial advice, trading advice, or any other advice, nor does it constitute an offer to buy or sell securities or any other assets or participate in any particular trading strategy. This publication does not take into account your personal investment objectives, financial situation, or needs. Treehouse does not warrant that the information provided in this publication is up to date or accurate.
New to DeFi? If you found this useful, check out our other Learn DeFi articles to dive deeper into the wonderful world of DeFi! Alternatively, browse our Insights section to read more in-depth analyses on the DeFi space. You can also try out our flagship product, Harvest, to get a comprehensive analysis of your DeFi assets. Lastly, subscribe to newsletter updates in the box below!