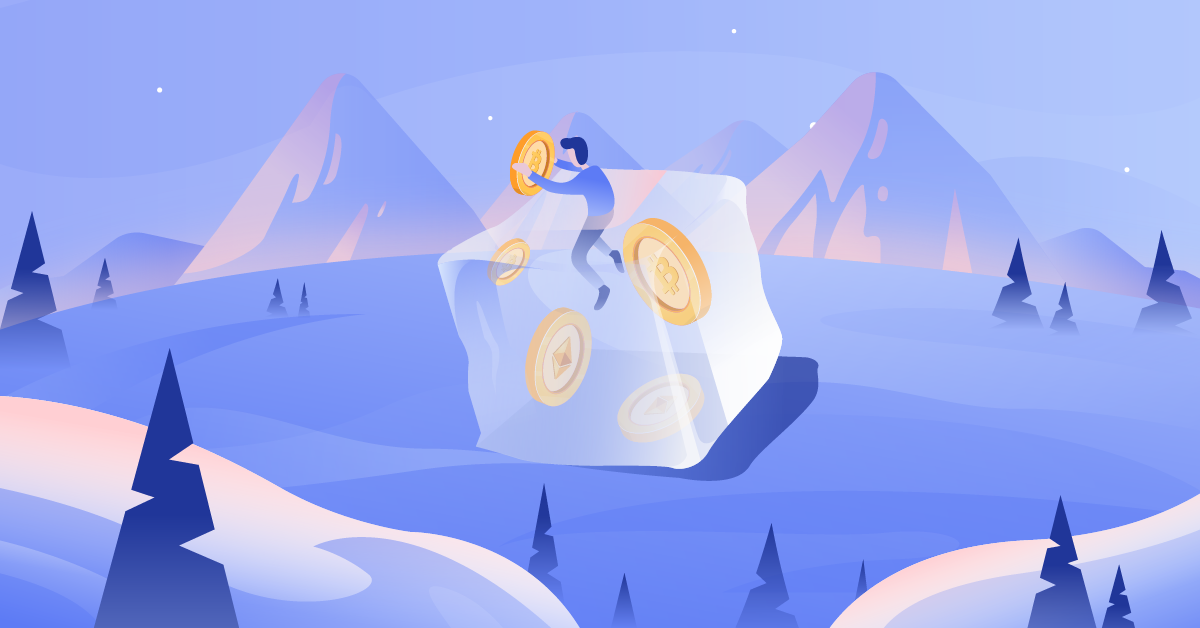 This article aims to provide insight into cryptocurrency and its relationship with the wider economy. It references blockchain technology and decentralized finance (DeFi). If you are unfamiliar with the basics of crypto, do read our articles on blockchain and DeFi before reading this article.
What Is a Crypto Winter?
A crypto winter refers to a sustained period of low prices, trading volume, and overall confidence in the crypto markets.
An Overview of the Great Crypto Crashes
1. 2013 Bitcoin Crash
On 5 December 2013, the People's Bank of China (PBoC) and other Chinese authorities issued a notice that banned local Chinese banks from handling Bitcoin (BTC) transactions. They raised issues regarding money laundering and financial stability. This was the main cause of the Bitcoin crash in late 2013 that left a mark in crypto history.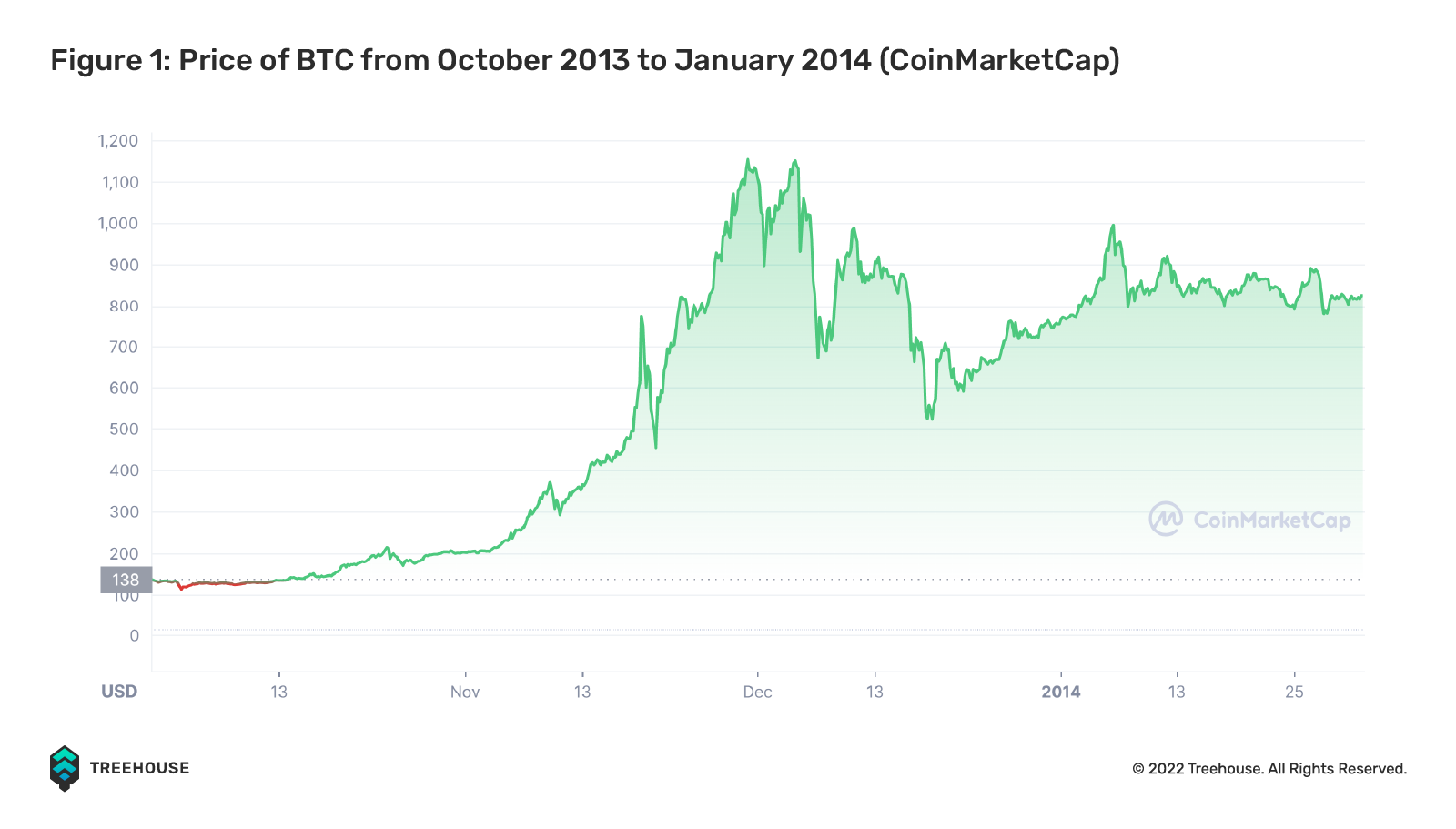 As shown in the figure above, BTC's price dropped from US$1154 on 30 November 2013 to US$673.01 on 7 December 2013, right after China's ban. The price fell further to a low of US$522.70 on 19 December 2013.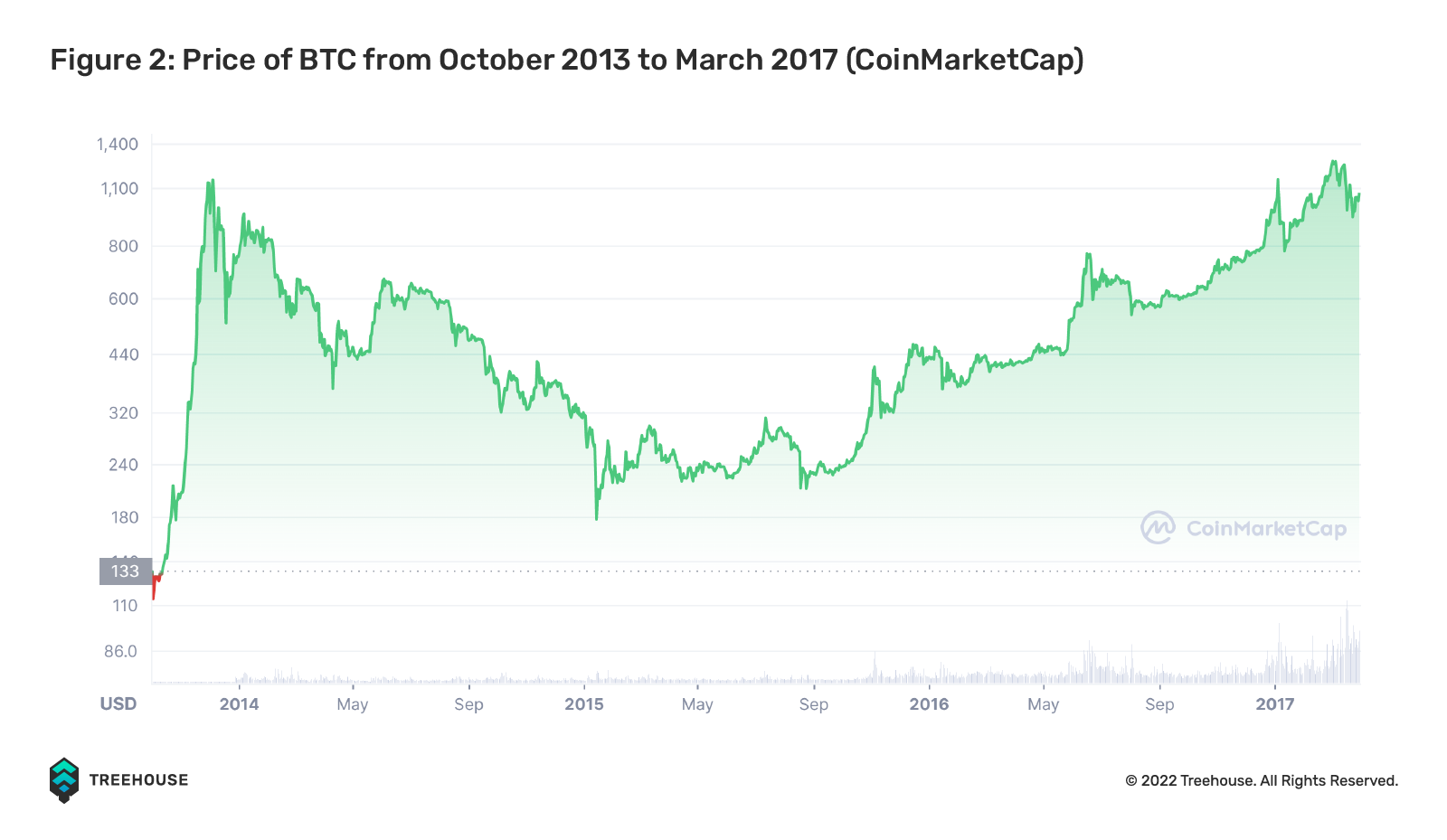 For reference, BTC's price only regained similar levels above US$1150 more than three years later in February 2017, ushering in the crypto bull run of 2017.
2. 2018 ICO Bubble
Known as the Initial Coin Offering (ICO) era, there was an unprecedented boom in the 2017 crypto market. Cryptocurrencies such as BTC were gaining massive popularity among the public, attracting a huge wave of new retail investors into the space.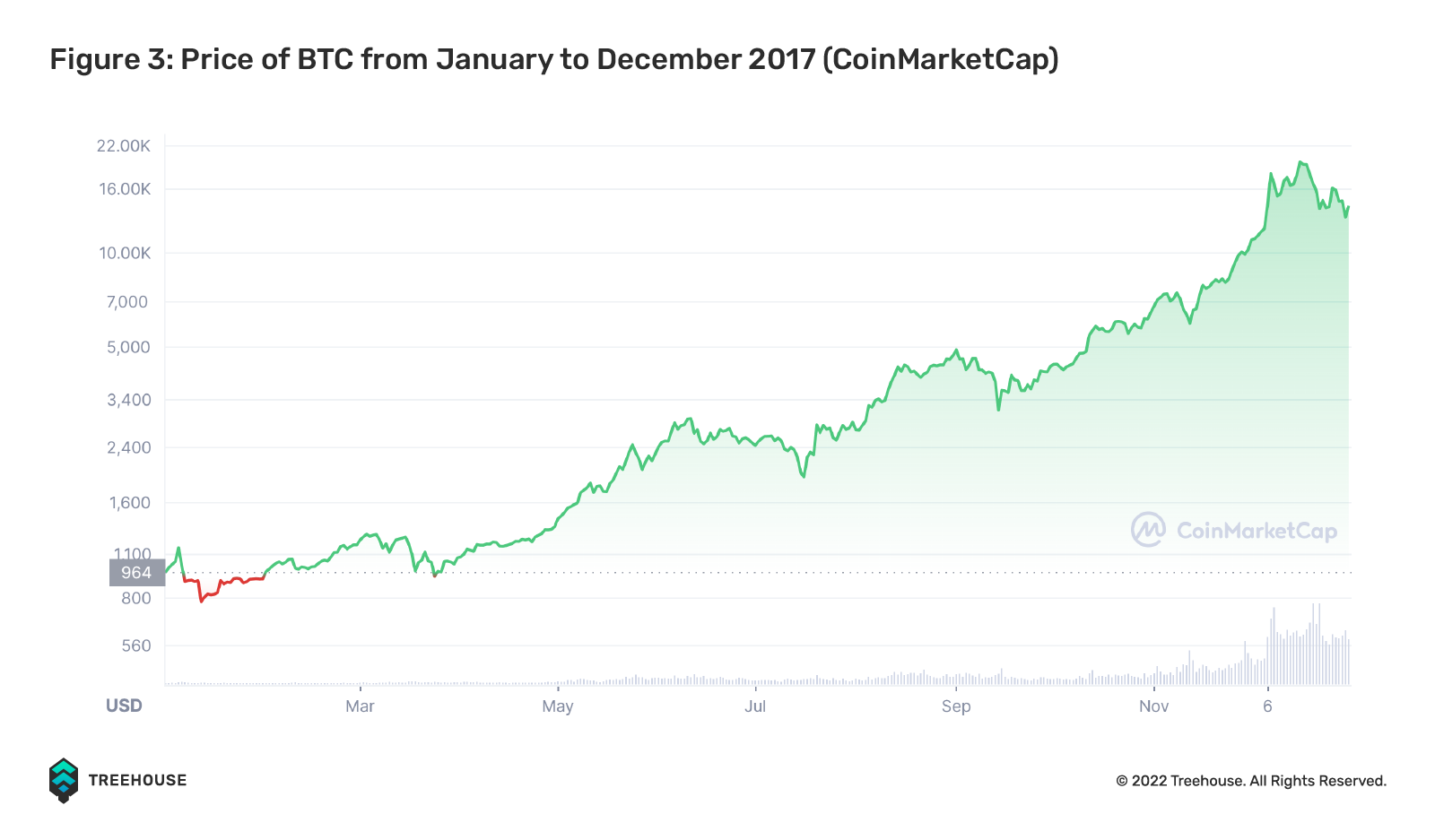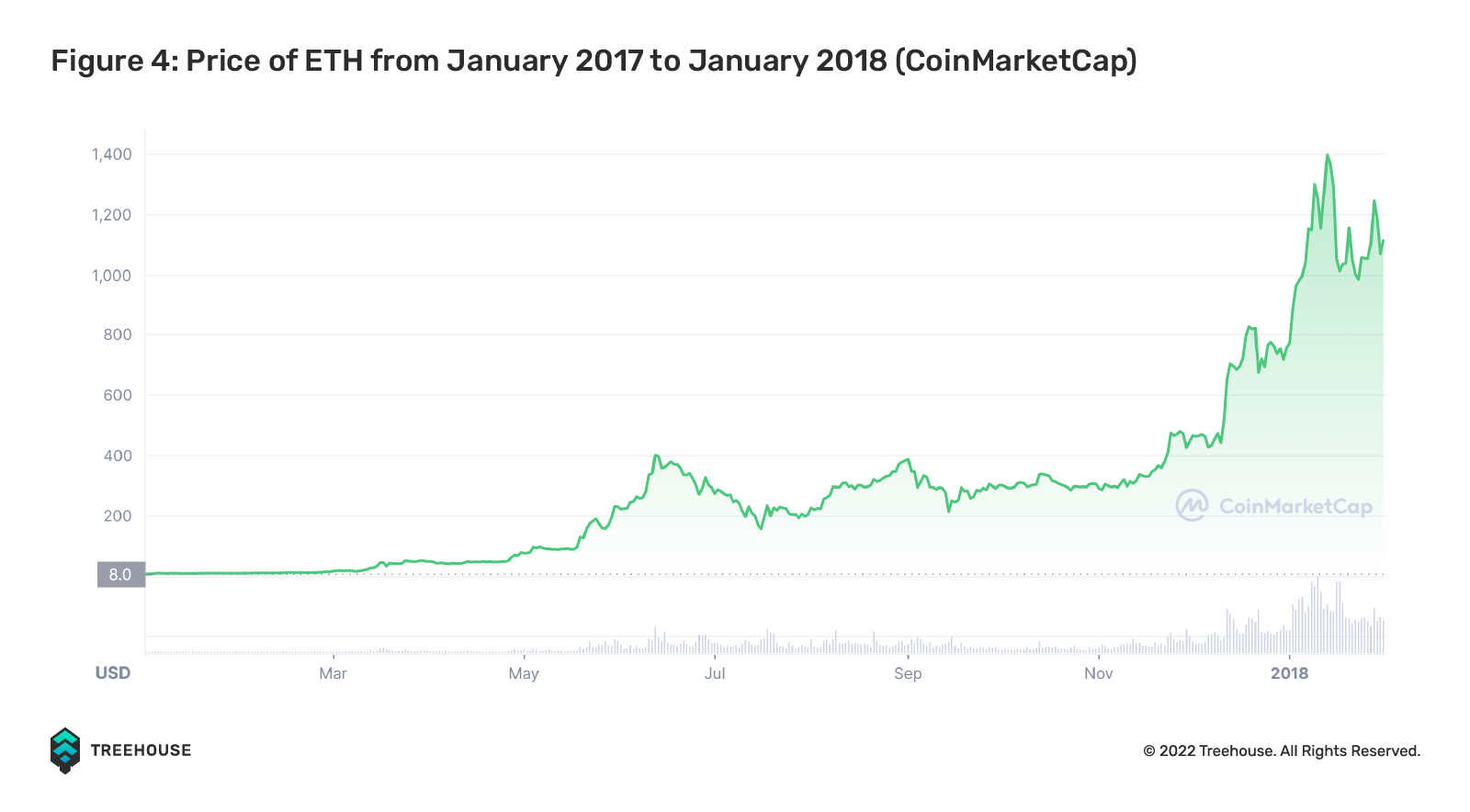 The Rise
From January to December 2017, BTC's price surged from US$750 to US$19,655. Similarly, Ether (ETH) rose from US$8 to over US$1,400 between January 2017 to January 2018. During that period, there was expanding interest in blockchain technology. Thousands of decentralized apps (dApps), DeFi projects, and tokens were introduced, inflating the ICO bubble by the day. The total crypto market cap crossed US$800B, and many tokens traded at prices much higher than their intrinsic value.
The Fall
The sudden influx of projects in a nascent and unregulated space, coupled with huge amounts of capital raised, led to an estimated 90% of the ICO projects failing within six months after launch. There was huge uncertainty in the markets that saw multiple scams and hacks, unsustainable business models, and failed projects. On top of this, countries like China and South Korea began discussing increased restrictions on crypto trading activity. This eventually led to the burst of the ICO bubble.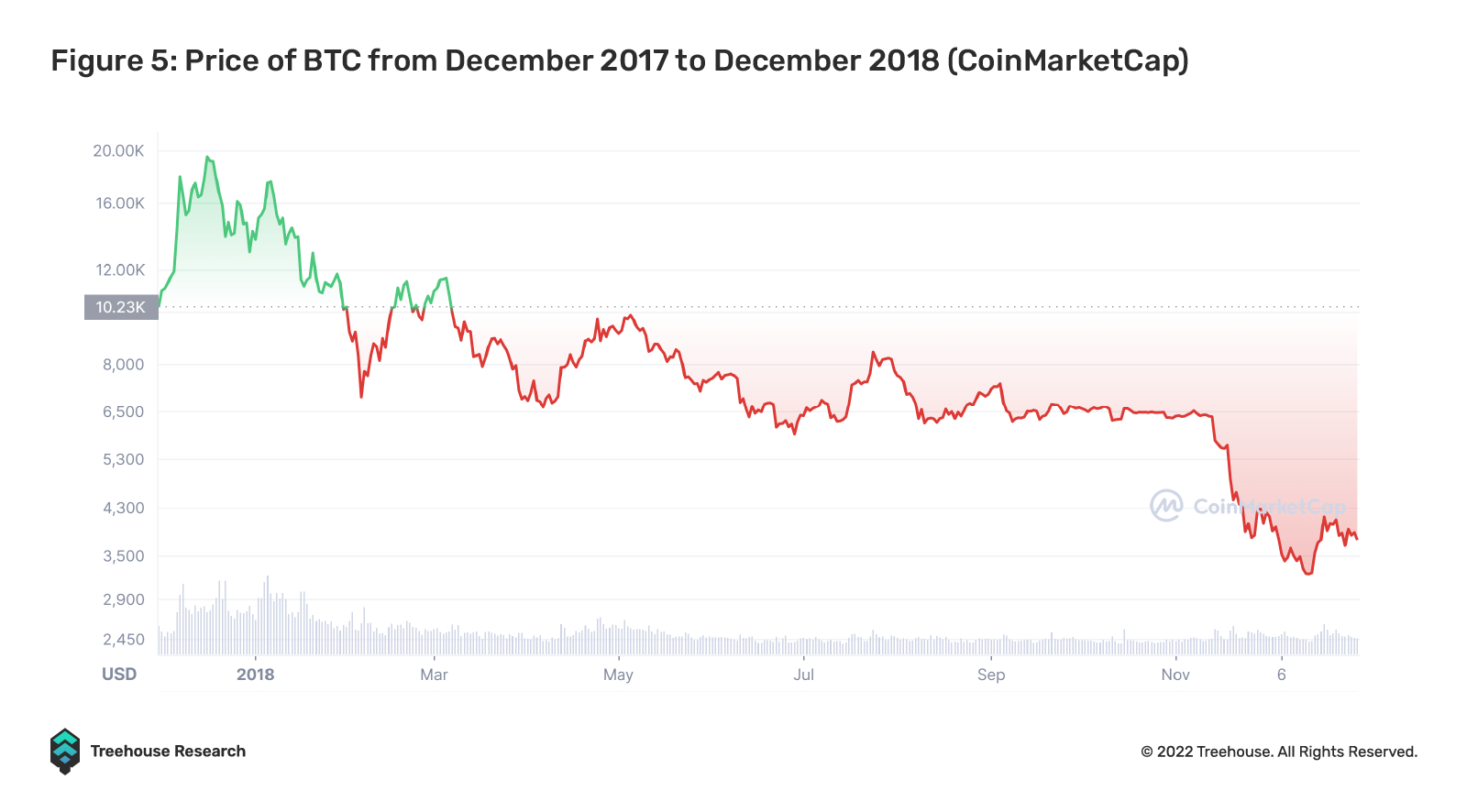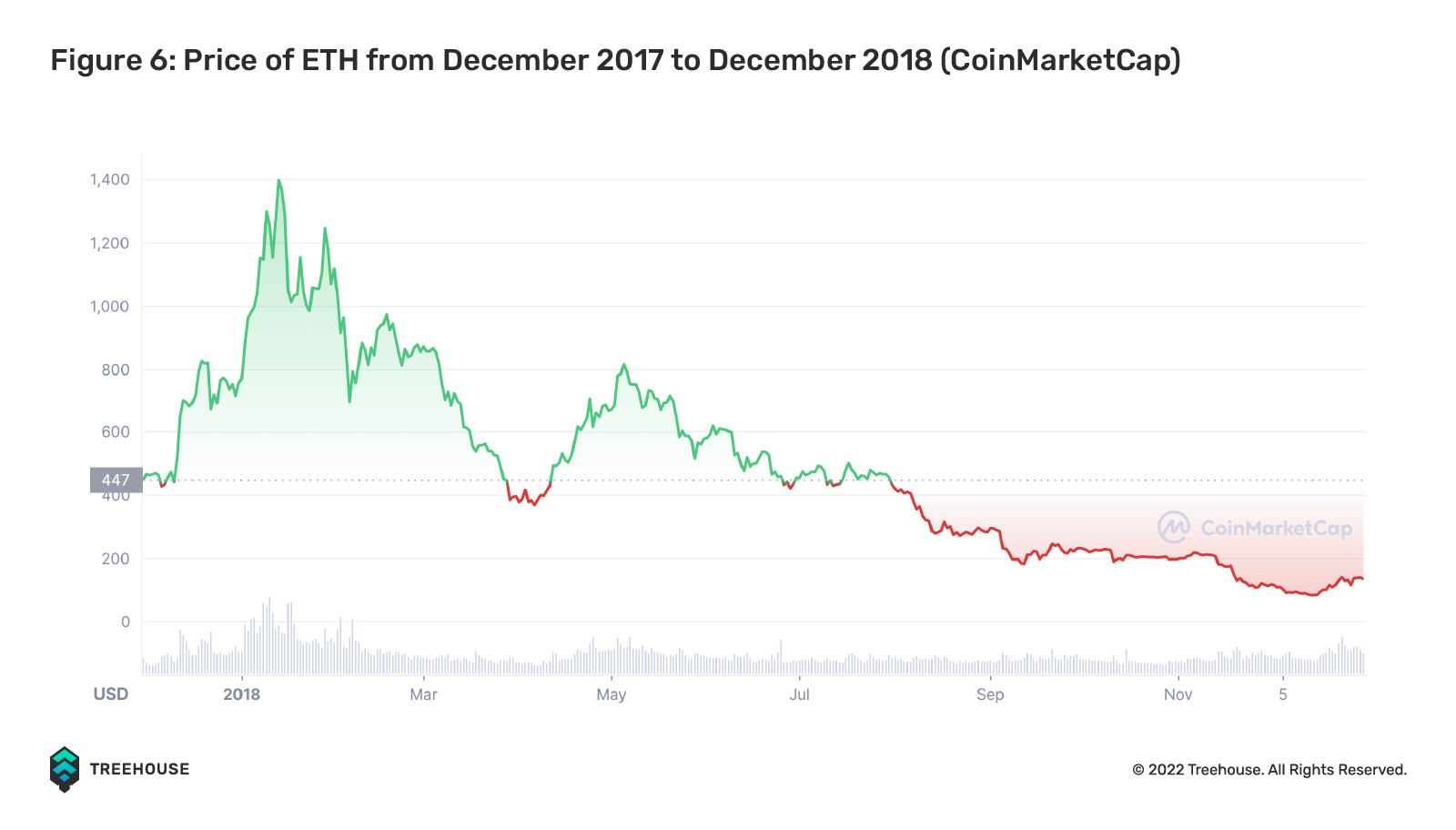 BTC price plunged around 85% from close to US$20K to US$3,236 from December 2017 to 2018, while ETH price fell by 95% from US$1,396 to US$84.
3. 2021/2022 Crash from All-Time Highs
An Overview of Events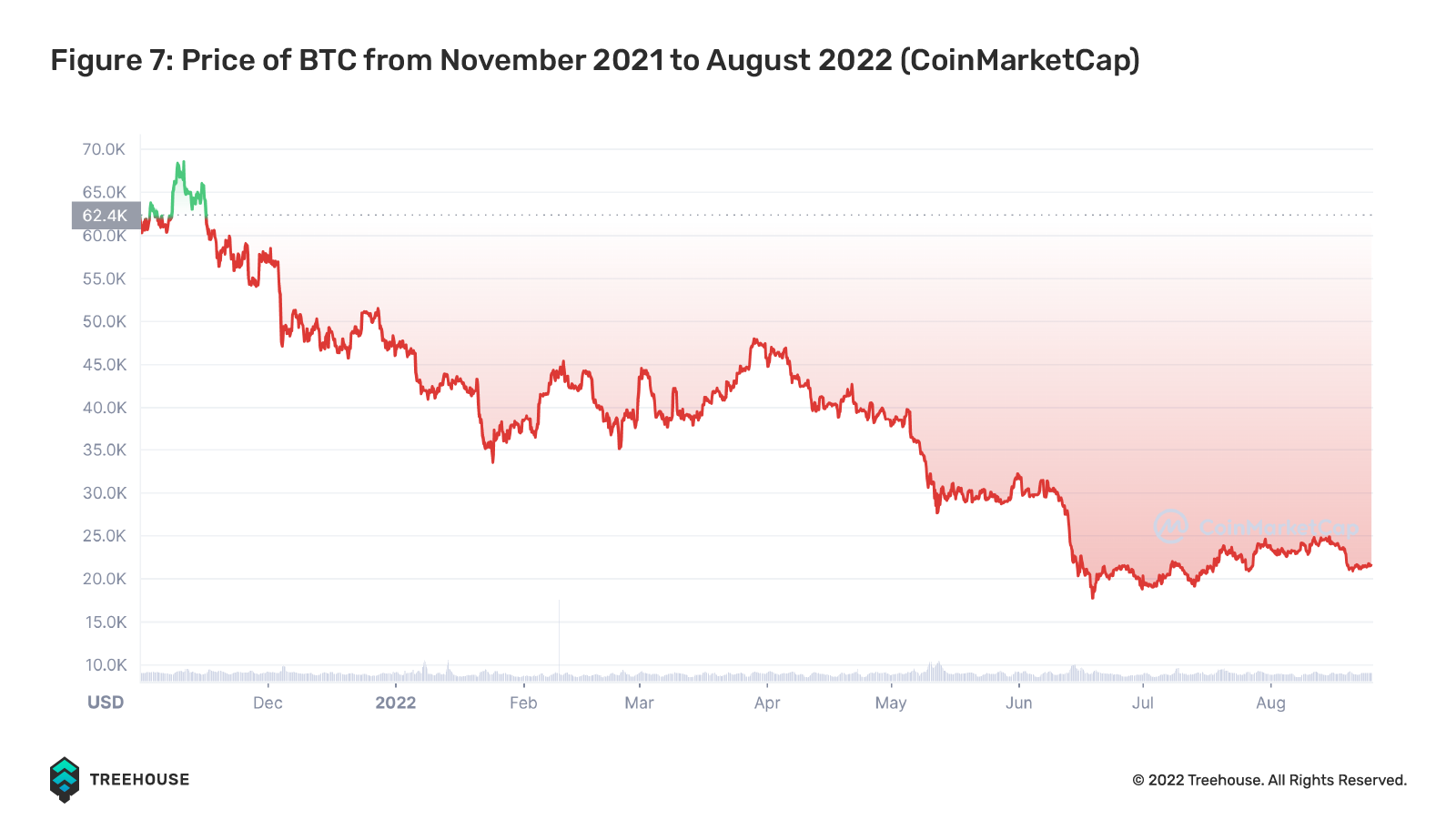 When the BTC price hit its all-time high of US$69K in November 2021, many crypto enthusiasts believed it was going "to the moon" and the beginning of a mega bull run. Against all expectations, the global macroeconomic situation took a negative turn in 2022, dragging the crypto market down too.
Russia-Ukraine War
Just when the world began to overcome the after-effects of the global pandemic, another catastrophe unfolded—the Russia-Ukraine conflict. This led to many supply chain management issues, ultimately resulting in an unavoidable spike in global inflation rates. The US economy started to feel immense inflationary pressures from the Fed's expansionary monetary policies and quantitative easing measures in response to Covid-19. To manage and reduce the inflation rate, the Fed decided to hike interest rates, causing investors to shift their money away from volatile assets like crypto.
Terra-Luna Crash
The 2022 crypto crash can also be attributed to a string of tragic black swan events in the space. In May 2022, UST, the largest algorithmic stablecoin, lost its peg to the Dollar. This sparked fear and panic among UST holders, especially users of Terra's Anchor protocol. This led to a death spiral of UST and LUNA with both assets crumbling to virtually zero. The immense scale of this debacle affected the entire market, causing the prices of most cryptocurrencies to plummet along with Terra-Luna.
3AC and Celsius Crypto Contagion
In June 2022, rumors of Celsius Network's insolvency surfaced, causing panic among the 1.7M Celsius users, especially since the crypto lending platform managed over US$11.7B worth of assets. Celsius eventually went on to freeze user withdrawals and declared bankruptcy in July 2022.
Three Arrows Capital (3AC), a multi-billion dollar crypto hedge fund, was also rumored to be insolvent during that time. They eventually filed for bankruptcy on 1 July 2022, with their co-founders, Zhu Su and Kyle Davies, still nowhere to be found as of August 2022. The demise of 3AC played a significant role in the crypto market crash due to its extensive network of partners. Their investment portfolio consisted of many established players in Web3 such as Voyager Digital and BlockFi who were badly affected by this episode. Read more about it here.
Are All Crypto Winters the Same?
Typically, the period we call "crypto winter" comes after a huge market crash which is reflected by a drastic fall in token prices. While all crypto winters involve low prices and trading volumes across the market, the factors leading up to them can differ greatly.
2014 Bitcoin Crash: Strict Chinese regulations
2018 Market Sell-Off: ICO Boom, unsustainable projects, and heavy regulation
2021-2022 Crypto Market Crash: Poor global macroeconomic conditions and unprecedented failures of large institutional players
What to Do in a Crypto Winter?
Every investor has their own approach to navigating the bear market. Ultimately, you should assess your risk tolerance before settling on the right strategies.
For Conservatives
For investors with lower risk tolerance, the most conservative strategy is to continue Dollar Cost Averaging (DCA) into blue chip coins like BTC and ETH.
For Risk-Takers
For investors with higher risk tolerance, several yield farming strategies like staking, lending, and liquidity mining can provide some form of stable returns. However, there is always risk involved, especially in the credibility and financial solvency of DeFi protocols. Our best advice is to always do your own research (DYOR) before putting your eggs into any basket.
Treehouse Resources
At Treehouse, we want to empower people to confidently navigate DeFi, including helping users understand and assess risk properly. For a comprehensive guide on advanced DeFi strategies and instruments you can use to navigate the crypto winter, check out our article "Bear Hunting: Strategies for DeFi Winter".
Here is our list of risk-related pieces:
Looking Back to Move Forward
Every market has highs and lows, including crypto. In 2022, many events and failures caused investors to reconsider their views toward crypto. As Andre Cronje has aptly put, "Crypto culture has strangled crypto ethos." DeFi summer brought about a wave of new users constantly chasing the best investment yields. This resulted in the conception of many unsustainable DeFi protocols operating with poor tokenomics and yield-generating mechanisms similar to Ponzi schemes.
The fall of Terra-Luna caused enormous ripple effects across the industry, exposing many flaws and cracks among institutional players. While the unsustainable Web3 businesses were weeded out, numerous builders are still silently creating and developing in the background, learning from the mistakes of others. These are the people who may eventually change the industry.
Furthermore, government authorities worldwide are starting to focus on integrating crypto and blockchain technology into users' everyday lives through new regulations and frameworks. Though the current outlook may be dull, the future of blockchain technology stands bright in the coming years.
New to DeFi? If you found this useful, check out our other Learn DeFi articles to dive deeper into the wonderful world of DeFi! Alternatively, browse our Insights section to read more in-depth analyses on the DeFi space. You can also try out our flagship product, Harvest, to get a comprehensive analysis of your DeFi assets and learn how to track them here. Lastly, subscribe to newsletter updates in the box below!
Disclaimer
This publication is provided for informational and entertainment purposes only. Nothing contained in this publication constitutes financial advice, trading advice, or any other advice, nor does it constitute an offer to buy or sell securities or any other assets or participate in any particular trading strategy. This publication does not take into account your personal investment objectives, financial situation, or needs. Treehouse does not warrant that the information provided in this publication is up to date or accurate.