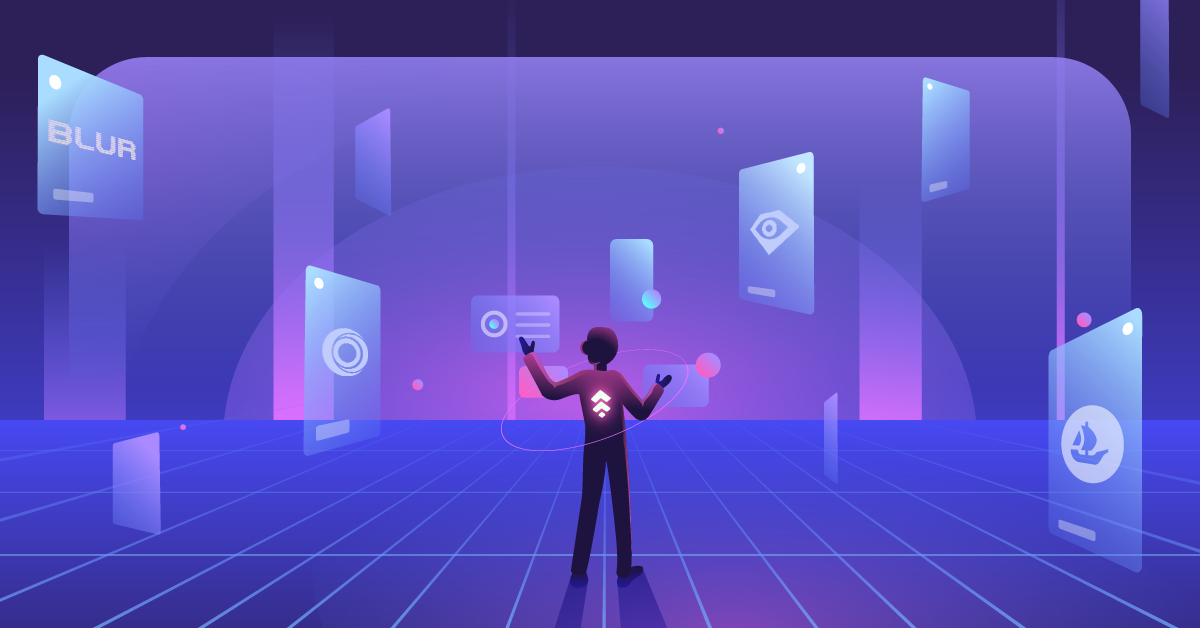 This article aims to provide an overview of non-fungible token (NFT) marketplaces. If you are unfamiliar with NFTs or cryptocurrency, read our introductory articles on crypto and NFTs before reading this article. You might also want to read our piece on common NFT misconceptions as well.
Introduction to NFT Marketplaces
NFTs have been around since the early days of crypto, dating back to as early as 2015. NFTs originated on the Ethereum chain, which is where most NFT activity remains. However, with NFTs becoming increasingly popular, there is also NFT activity on other chains such as Solana and Cardano. NFTs are usually traded or exchanged on NFT marketplaces, platforms for users to buy, sell, and mint NFTs. Launched in 2017, OpenSea is considered the first and biggest NFT marketplace today.
NFTs were under the radar until Beeple sold his "Everyday: The First 5000 Days" NFT for USD$69M in a partnership with Christie's, a major auction house in New York. Since then, numerous NFT marketplaces have emerged. This article will introduce the following notable marketplaces: OpenSea, LooksRare, X2Y2, and Blur.
OpenSea
OpenSea is the oldest and biggest NFT marketplace, with over 2.3M users and a combined marketplace transaction volume of US$32.89B (as of 11 November 2022). It offers cross-chain support on Ethereum, Arbitrum, Avalanche, Klaytn, Optimism, Polygon, and Solana.
OpenSea's friendly user interface (UI) makes it a favorite, commanding the largest daily transactional volume.
Pros
– User-friendly UI makes it easy to use and navigate
– User profile can be edited and customized based on preferences
– High transaction volume makes it easier to sell NFTs
– In light of the rise in scams, OpenSea has a function whereby users can report stolen assets and lock specific NFTS so they cannot be bought or sold
– OpenSea also auto-hides any malicious NFTs and transfers them to a hidden tab to prevent any interactions with them
Cons
– Although OpenSea has the largest volume in the entire NFT space, its real-time updates for floor price and NFT volume are slow, which might be disadvantageous for pro traders
– Relatively high fees (2.5%) compared to competitors
LooksRare
LooksRare is a popular NFT marketplace launched on 10 January 2022. It has a total transactional volume of US$1.3B (not including wash trading) and cumulative fees of US$547M (as of 15 November 2022).
It is a community-first marketplace that incentivizes users to use its platform through its staking and listing reward system.
Read our deep dive on LooksRare in our Insights piece here.
Pros
– LooksRare incentivizes users to join its platform by airdropping its native token, LOOKS, based on users' OpenSea trade volume
– LooksRare's staking program encourages users to stake their LOOKS to earn rewards
– LooksRare's trading reward system encourages users to buy and sell NFTs to earn LOOKS
– Users can also earn LOOKS by listing their NFTs on LooksRare, where the amount of LOOKS received varies depending on how close the NFT is priced compared to the project's floor
– Mass listing instead of individual listing
– LooksRare was the first to come up with the collection offer function allowing users to offer to purchase an entire collection
– Conditional listing allows users to set custom conditions for orders when selling more than one NFT

Read more about LooksRare rewards here!
Cons
– Complex UI, which may make it difficult for new users to adapt to
– Wash trading occurs when users try to game the reward system to gain more $LOOKS tokens
– Limited scam protection compared to OpenSea, so users' profiles might be cluttered with malicious NFTs
– LooksRare's lower trading volume (compared to OpenSea) makes it less favorable for users to use the platform because it will be harder for them to sell their NFTs
– Only Ethereum NFTs are available
X2Y2
X2Y2 is an NFT marketplace that launched shortly after LooksRare on 28 January 2022 with a total transaction volume of 2,118 ETH (as of 11 November 2022). X2Y2 has several features similar to that of LooksRare and innovative features such as NFT lending and borrowing.
Many users turn to X2Y2 for its private listing feature, which has zero fees and royalties.
Pros
– The native token, X2Y2, is given to users who have traded on OpenSea since its inception
– Mass listing and mass purchase for NFT collections are available
– Rarity integration (displays how rare an NFT is relative to its collection)
– Private sales with no fees 
– Analytics graphs showing market overview, individual transactions, and profit and loss (P&L) trades for collections
– Flexible royalty allows sellers to decide whether to pay full royalty or let buyers decide how much royalty should be paid in a sale (This is no longer applicable. An update regarding this can be found here.)
– Holders of each collection can vote to enforce full royalty or maintain flexible royalty 
– NFT loans allow users to loan or borrow at no fees with flexible interest rates 
– In-built user profile P&L statistics reflecting lifetime trades
Cons
– Unoptimized user profile UI, where malicious NFTs are not filtered out
– Marketplace listings are limited to Ethereum NFTs
Blur.io
Blur.io, the newest kid on the block, was launched on 20 October 2022 and is backed by many big players within the Web3 space such as Paradigm, 6529 Capital, and many more. Despite being new, it gained US$2.5M in trading volume on 26 October 2022, just one week after its launch, surpassing many competitors in the market.
As a pro-trader-focused marketplace provides many tools such as sweeping, mass listing, and real-time updates making active trading easier.
Pros
– BLUR, its native token, is scheduled to drop in January 2023 in the form "Care Packages" for users who have transacted NFTs in the last 6 months
– BLUR will be used for governance purposes and users will be able to own and profit from Blur
– Flexible royalties across all collections
– In-built user profile P&L statistics reflecting lifetime trades
– Mass listing for different NFTs across different marketplaces, such as OpenSea and LooksRare, by integrating their respective APIs
– Sweeping function allows users to buy more than 1 NFT in a single swap or transaction block (Similar to Genie or Gem, though Blur only allows users to sweep within one collection each time)
– Rarity aggregation for collections
– Integrated sniping tool
– Real-time data updates reflect changes in market prices and transaction volume
– Aggregates data from all the big NFT marketplaces such as OpenSea and LooksRare
Cons
– Complex UI makes it challenging for newcomers to adapt to and use the platform
– Only Ethereum NFTs are available
– Not all Ethereum collections are available on Blur
– Not optimized on mobile
Conclusion
With the popularization of NFTs in recent times, NFT marketplaces have become an essential infrastructure within the Web3 space. Besides the four marketplaces we introduced, there are many other marketplaces built for specific NFT genres, such as NBA Top Shot, Rarible, Nifty Gateway, and even GameFi-specific marketplaces such as Axie Infinity.
The continuous growth of NFTs will demand that NFT marketplaces keep making improvements to cater to its users. There might also be deeper integration between different marketplaces in the future, such as GameFi NFT marketplaces working with big names like OpenSea, to provide more utility and services for users.
Disclaimer
This publication is provided for informational and entertainment purposes only. Nothing contained in this publication constitutes financial advice, trading advice, or any other advice, nor does it constitute an offer to buy or sell securities or any other assets or participate in any particular trading strategy. This publication does not take into account your personal investment objectives, financial situation, or needs. Treehouse does not warrant that the information provided in this publication is up to date or accurate.
New to DeFi? If you found this useful, check out our other Learn DeFi articles to dive deeper into the wonderful world of DeFi! Alternatively, browse our Insights section to read more in-depth analyses on the DeFi space. You can also try out our flagship product, Harvest, to get a comprehensive analysis of your DeFi assets. Lastly, subscribe to newsletter updates in the box below!