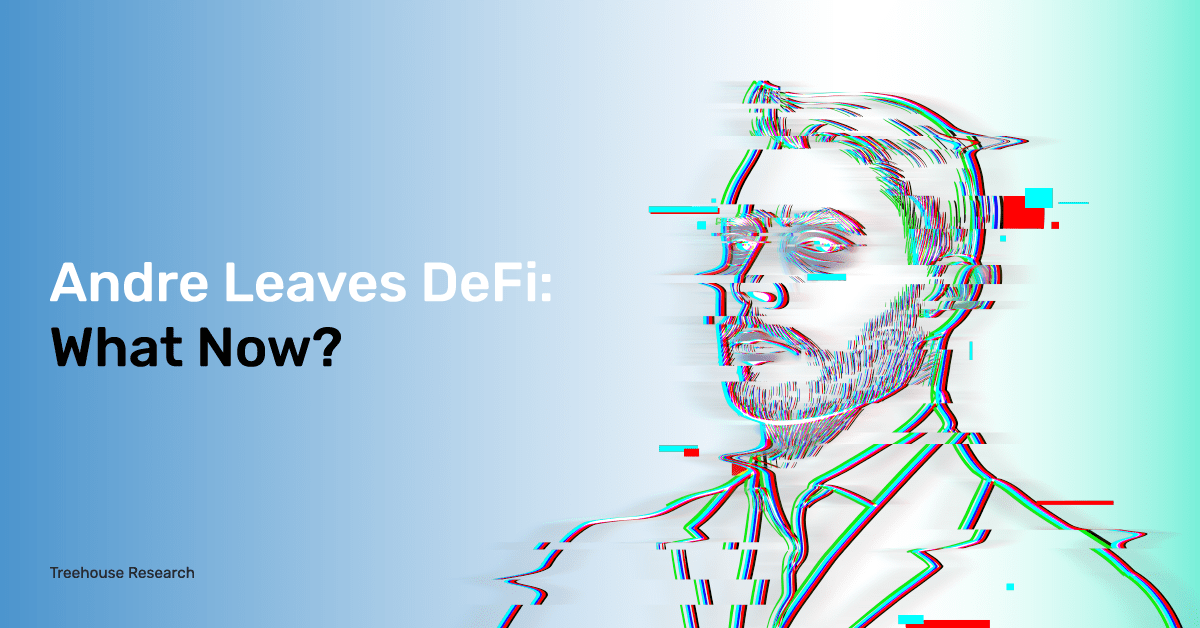 On 6th March 2022, Legendary DeFi builder Andre Cronje bid farewell to the world of DeFi shortly after deactivating his Twitter account. This announcement was made by Andre's co-developer and good friend, Anton Nell, who will also be leaving the DeFi scene.
The headline shocked crypto communities just as global risk markets were selling off, sending Fantom (FTM) into a 13.5% freefall by the end of the day. In this quick write-up, we will dive into the background and circumstances of Andre and Anton's exit, discuss the broader implications, and give our view on how to potentially capitalize on this opportunity. LFG!
A Brief History of Andre and Anton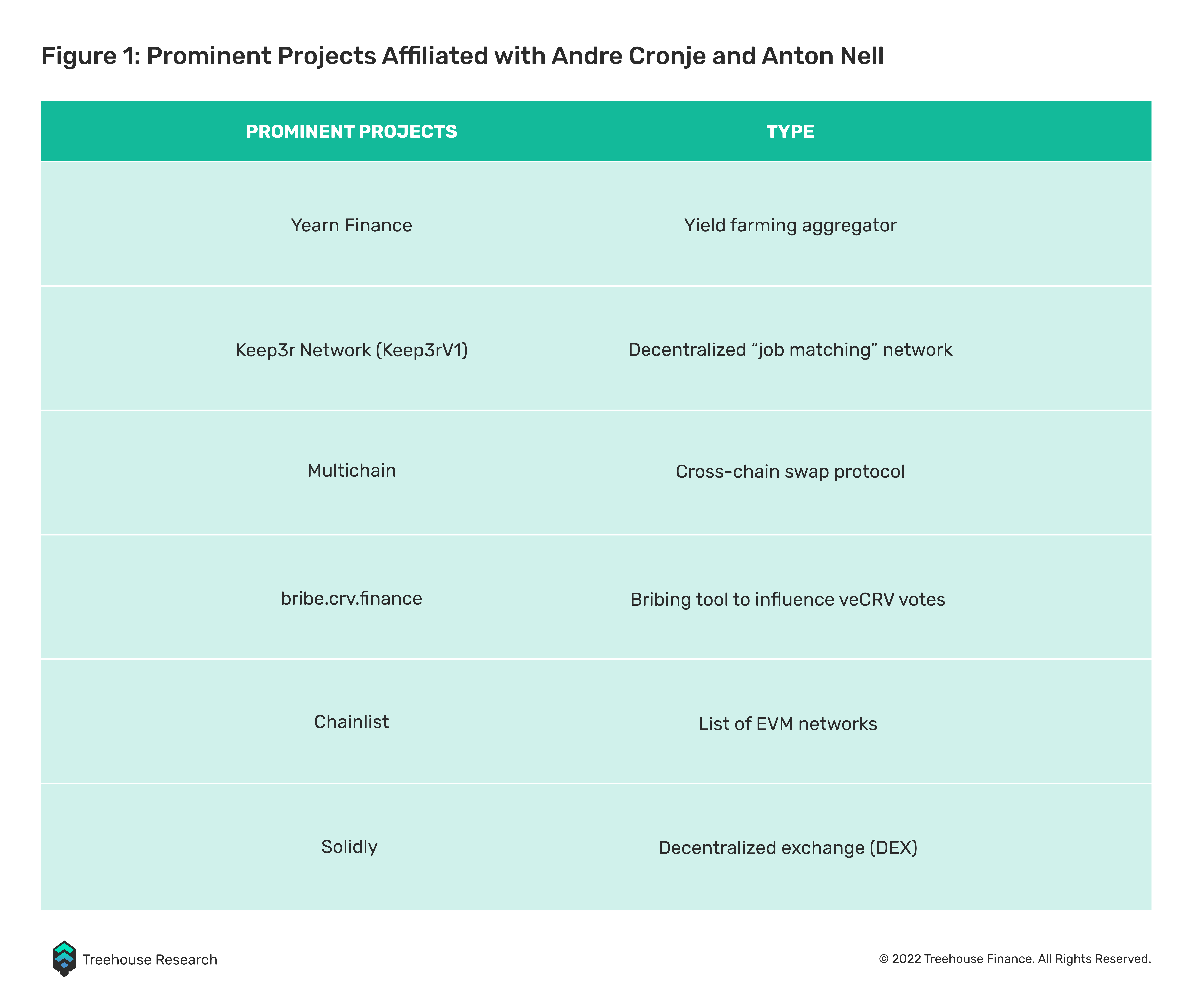 Andre Cronje is a South African software developer who found his calling in the crypto scene in 2018 as a code reviewer for Crypto Briefing. Since then, he rose to prominence and founded multiple successful projects including, among others, Yearn Finance and Keep3r Network. Before his departure from crypto, Andre held the position of Technical Advisor at Fantom Foundation, a role he served from July 2018.
Along with Andre, Anton is also an established software developer in the crypto scene. Anton shares a similar history with Andre, with both dudes working in the same companies since 2012. Given their impressive development track record, both held massive influence on the crypto community, although Andre received more attention in the media than his counterpart.
Why Did They Leave?
Although their friendship is not often publicized, it can be implied that the pair shares a tight-knitted friendship. Their decision to leave Crypto/DeFi is one likely laced with mutual peer influence and pent-up frustration. Here are some possible reasons why:
The 10-year Brotherhood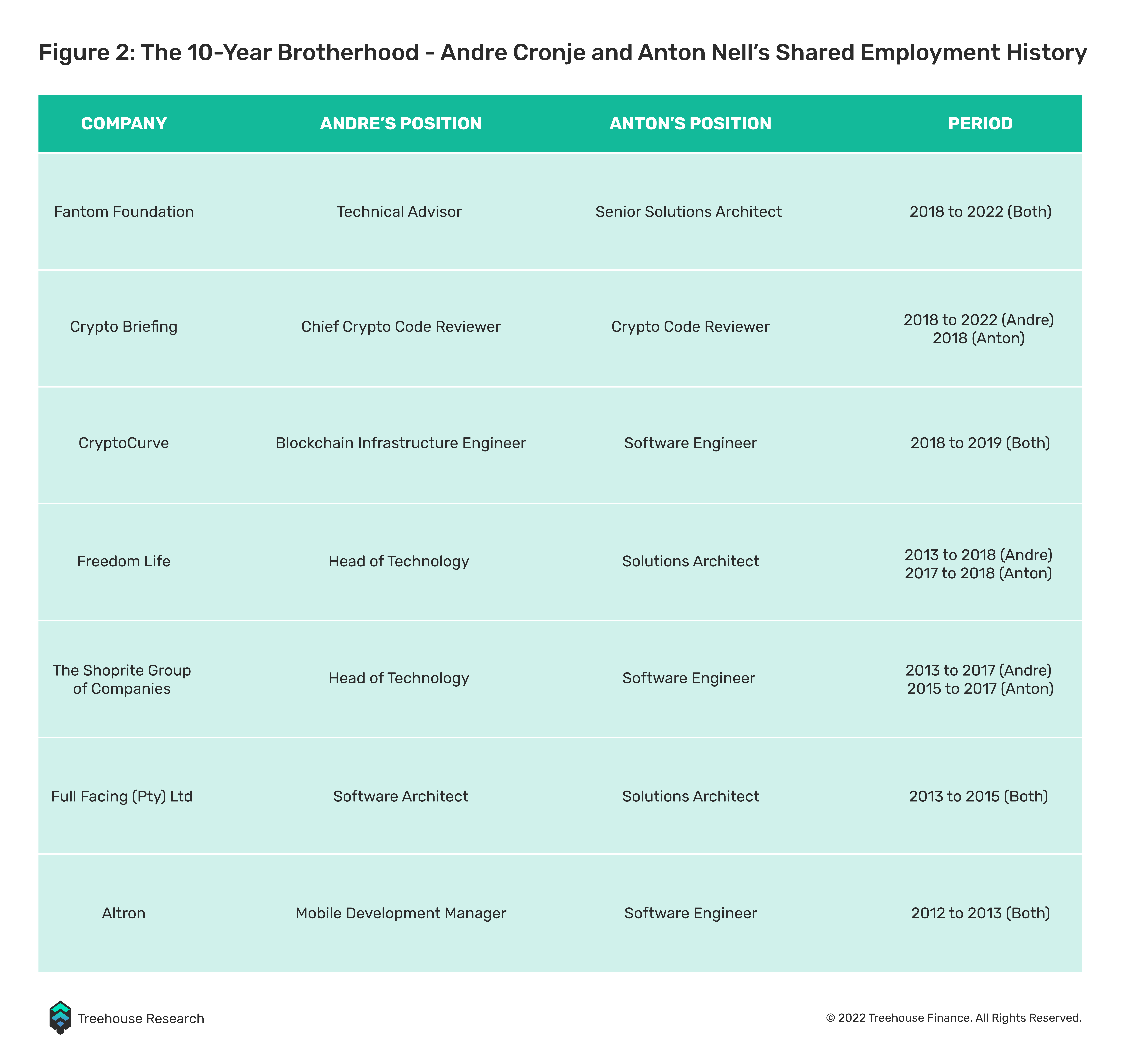 In both of their professional careers, Anton and Andre have worked at 10 and 17 different companies respectively (excluding DeFi projects). Of those companies, they were employed in the same company, at the same time, on 7 instances. On LinkedIn, both developers have their employment description worded exactly the same too – something we do not see often 🤔. Given these facts, we think it is apparent that there is a strong degree of trust and friendship between them.
Andre Is Only Human
Although Andre's departure may come as a surprise to the Crypto community, there were some telltale signs of Andre's fatigue since early 2020. Back in February 2020, Andre published a Medium article titled "Building in #DeFi sucks". In that article, he expressed his frustrations with hostile communities and the high cost of building in DeFi.
"I need to seriously reflect and consider if I still want to be involved in a space this antagonistic and hostile. Especially when I try to do this as a common good"

– Andre Cronje in "Building in #DeFi sucks"
After a year, Andre wrote a sequel to his earlier piece titled "Building in defi sucks (part 2)". Although the points he made were slightly different, the messaging and sentiment rhymed with his former piece.
"My best advice, honestly, don't be a dev, you need to be some kind of sick masochist to be a dev in this space, be a shitcoin trader … Why do you want to suffer all the costs, all the responsibility, and all the risk with a fraction (or in my dumbass case, none) of the rewards?"

– Andre Cronje in "Building in defi sucks (part 2)"
Possible Reasons Behind Their Exit
The two Medium articles above present evidence of Andre's pent-up frustration, but it is highly probable that his decision to leave was, in Anton's words, "not a knee-jerk reaction to the hate received from releasing a project". However, some people are saying otherwise given the negative sentiments surrounding the recent Solidly launch.
Unlike Andre's case, we found no evidence of Anton's intention to leave DeFi prior to his announcement. However, we think that peer influence was likely a strong contributing factor, given their long-standing history together.
Broader Implications of Their Exit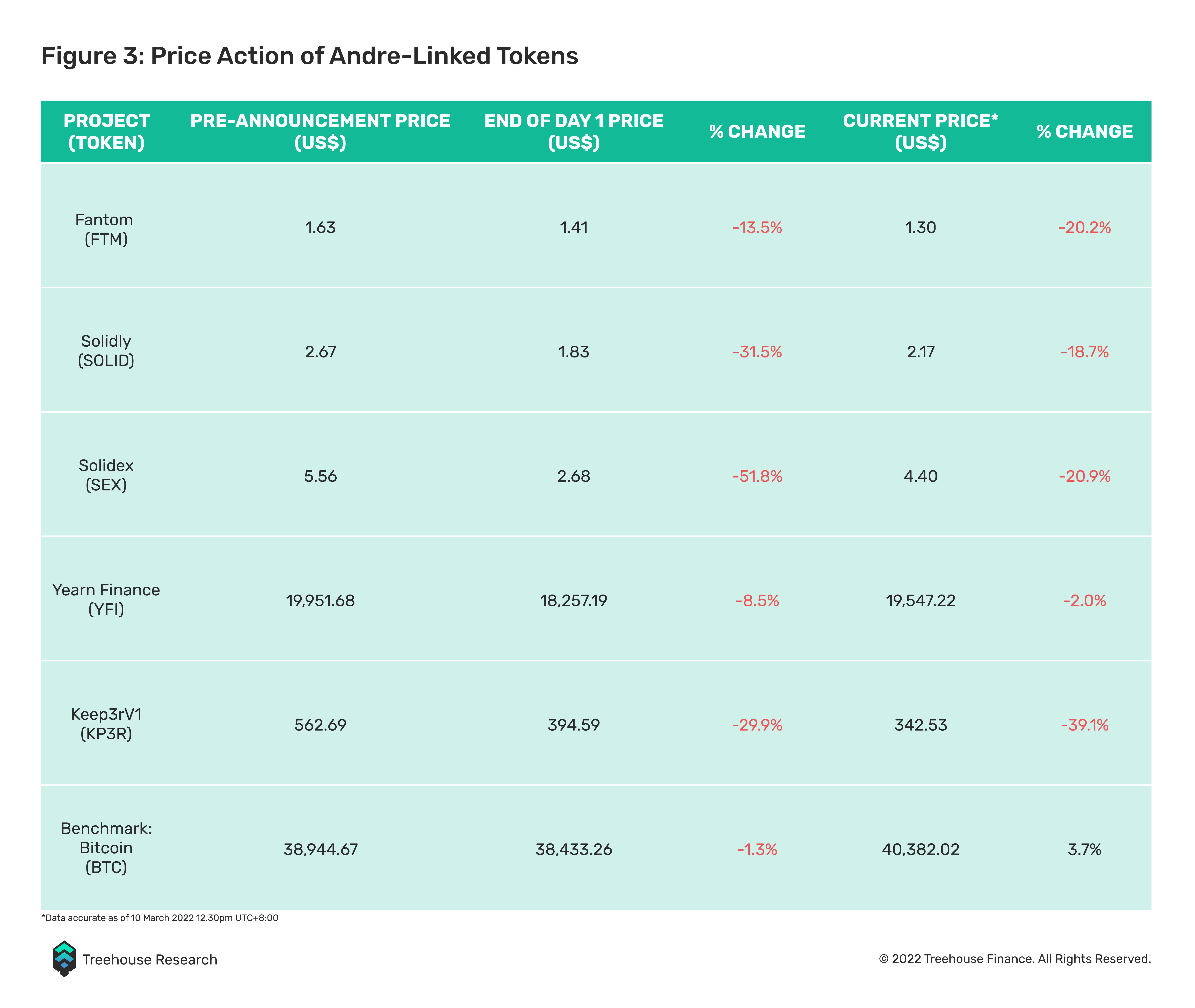 Following the shocking announcement, tokens linked to Andre immediately plunged as seen from the table above. At the time of writing (10/3/2022 12.30pm UTC+8:00), the prices of these tokens are still significantly lower compared to pre-announcement despite the benchmark BTC being up 3.7%.
Given that Andre built Solidly on FTM and served as Fantom Foundation's Technical Advisor, we believe it is important to understand the implications of his exit on FTM.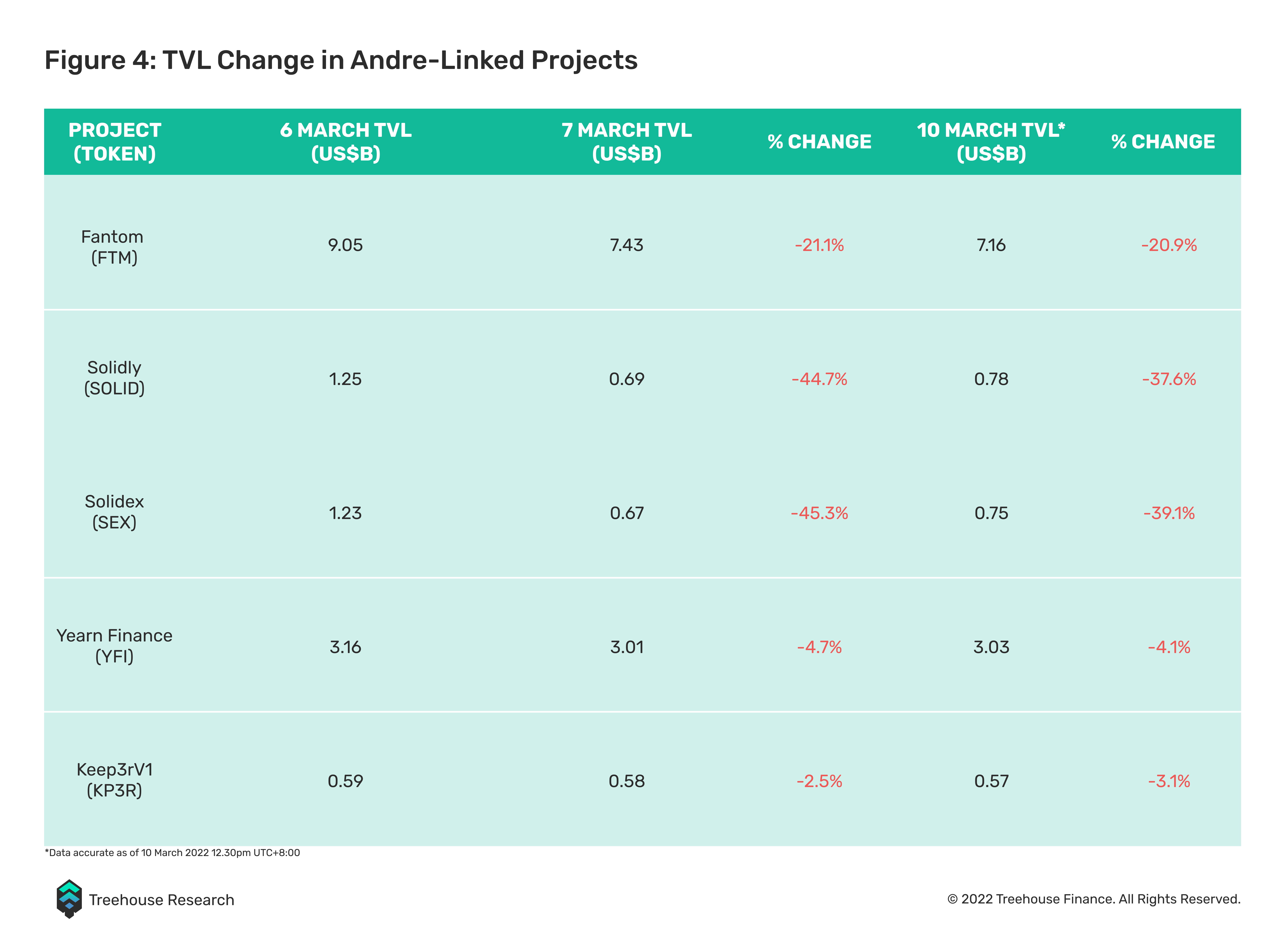 In the near term, his exit has triggered a significant outflow in TVL as users panicked to withdraw liquidity from Solidly and Solidex. This caused a ~38% to 39% decline in TVL for both protocols within a day of the announcement which contributed to a ~21% drop in FTM's TVL.
Zooming out, FTM is more than a single person and is currently run by a 40+ strong team. In addition, hundreds of developers are building on FTM daily and this has led to many popular and widely-used protocols including SpookySwap and Liquid Driver.
Furthermore, it was mercenary capital that led much of the rotation into FTM as users jostled to participate in the recent Solidly wars. We deduced this from the significant pump in FTM's TVL from $5.3b on 11th January (just before the veDAO1 launch) to $12.1b on 3rd March. This was in tandem with the height of the Solidly wars and this entire TVL surge has almost fully retraced following Andre's exit announcement. In retrospect, much of this capital was never intended to stay on FTM anyways and should not affect the long-term development of the network.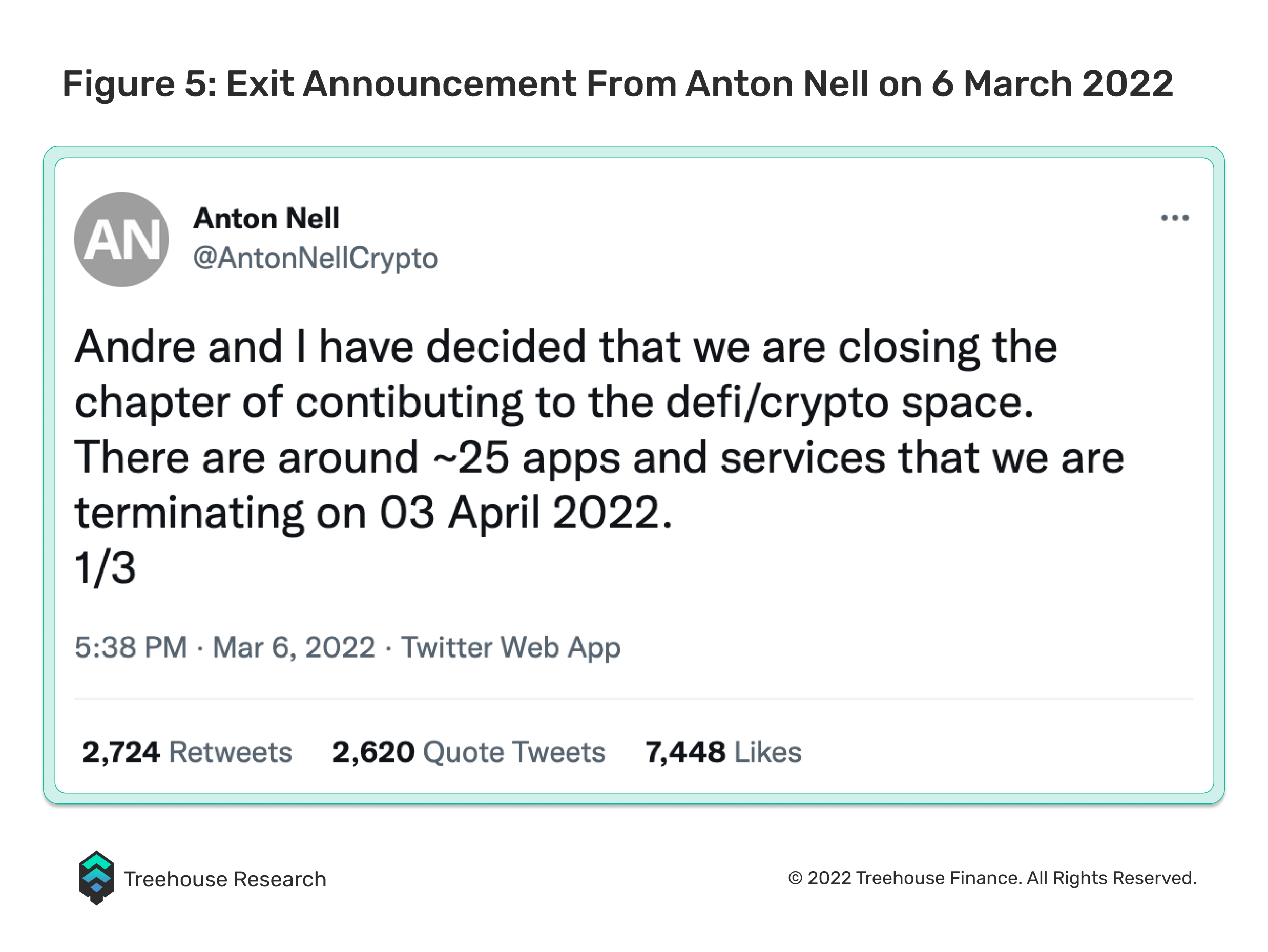 When Andre's exit thread was first shared, the community initially interpreted "~25 apps and services that we are terminating" as a complete shutdown of their projects. However, it was later clarified that they would be handing over everything to their existing teams.
In addition, it was revealed by the Crypto Twitter (CT) community that many of these projects (such as Yearn Finance) have been running for more than a year without much involvement from Andre. It must be noted that the changes to these projects moving forward mainly pertain to the front-end and small edits in their URL (ie multichain.xyz to multichain.org).
Creating a brand new DApp interface does not usually happen overnight, and we speculate that Andre had prepped their project teams of his imminent departure with a proper handover plan in the background.
In the case of his newest project, Solidly, the Solidex team agreed to maintain Solidly's UI and to keep the protocol up and running.
The Treehouse View
What Have We Done On Our Personal Accounts?
We Bought the Dip on Fantom (FTM)
Apart from this momentary blip, we believe that there has been no fundamental change to FTM. In addition, the entire TVL outflow thus far is just a reversal of the inflow of mercenary capital for the Solidly wars, and not a material outflow in the TVL FTM has built up through its existing projects.
Furthermore, at 0.44, FTM has the lowest Mcap/TVL amongst the top 10 L1s ranked by TVL (as of 10th March 2022). To put this into perspective, the Mcap/TVL for Avalanche (AVAX) and Solana (SOL) are 1.75 and 3.82 respectively. This implies that FTM is priced relatively cheap for the size of its community and user base.
Risk: Prolonged DeFi Slump
However, should the current DeFi slump persist, we may see continued weakness in on-chain activity and further TVL outflow which could lead to a drop in demand for the FTM token. In spite of this, we remain bullish long-term on FTM as one of the key alt-L1s within the DeFi ecosystem.
We also Gained Exposure to KP3R
We would like to caveat to all readers that this is a highly speculative (and degenerate) personal thesis.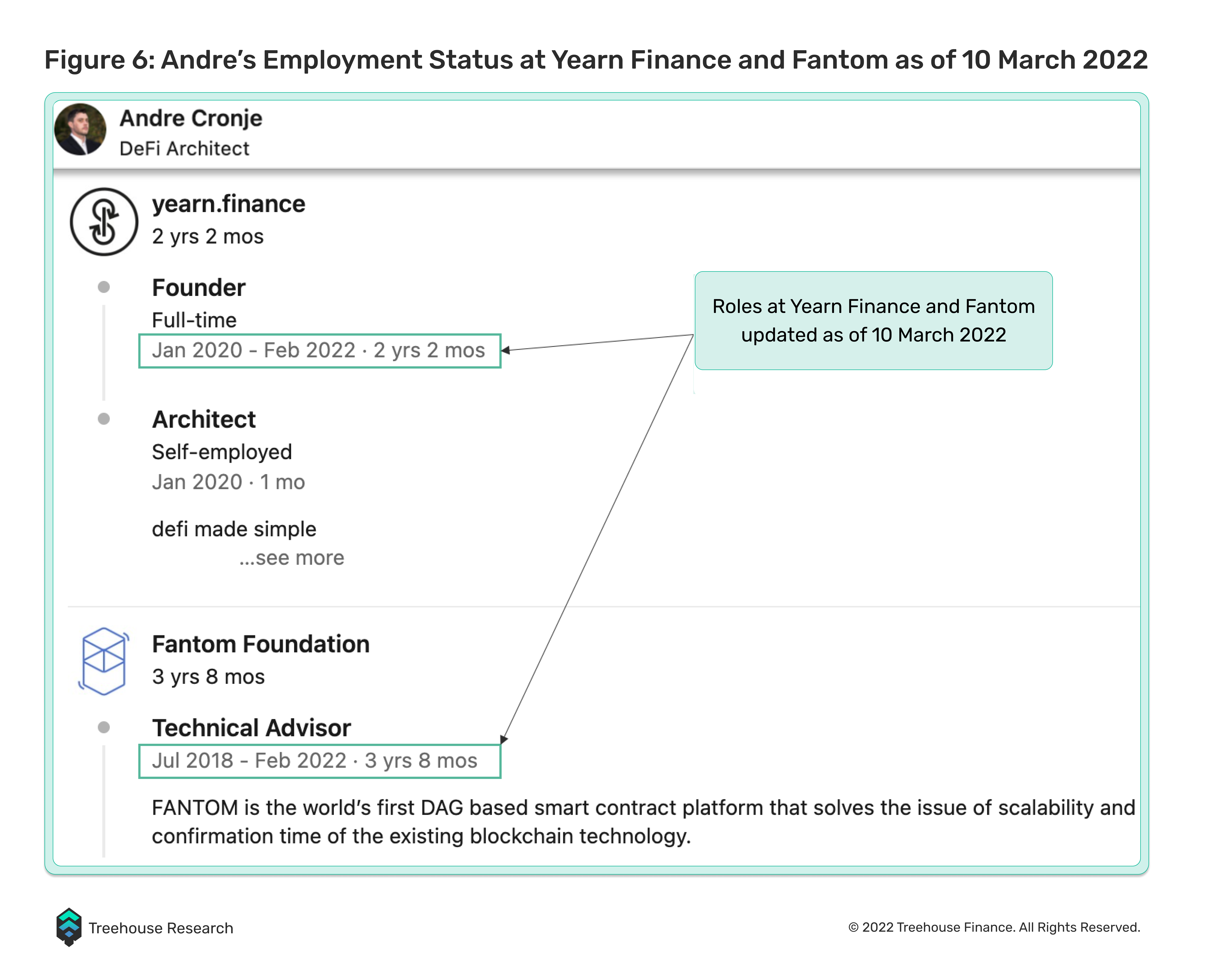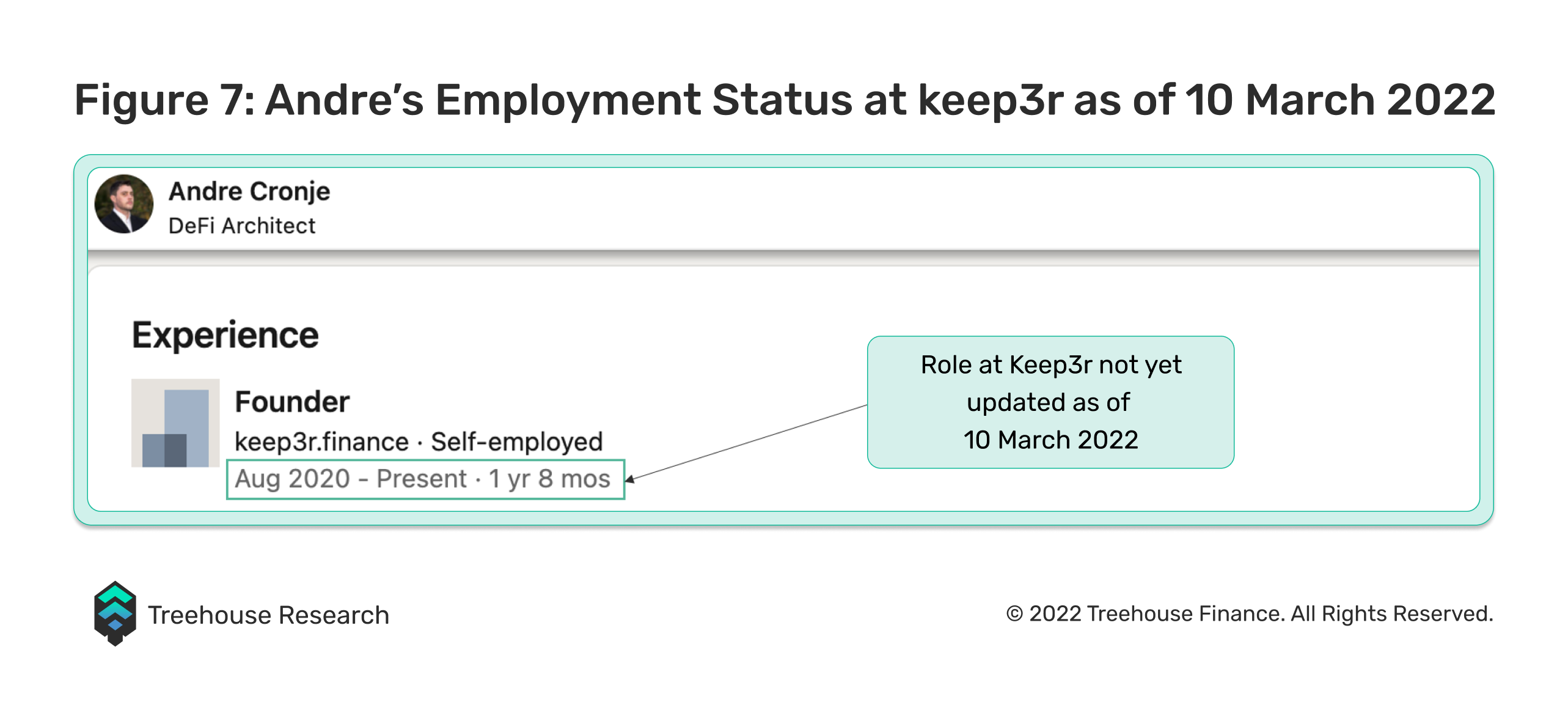 While Andre has updated all of his employment statuses on LinkedIn to reflect his exit from crypto (Only Yearn Finance and Fantom shown in Figure 6), Keep3r (i.e. keep3r.finance) was the only one interestingly left untouched. Could this be an honest oversight, or does Andre still have some skin in the game?
To speculate on Andre's continued involvement, we bought the beaten-down KP3R token. Although KP3R follows the ve(3,3) model, we are not going to lock KP3R for vKP3R, as maintaining liquidity is essential for our trade. If our thesis turns out to be true, a god candle on KP3R is not out of the question, as we think that the crypto community could hype this narrative to the moon.
Risk: Handover Process and Andre's Exit Reconfirmation
Although we think that most downside risks are already priced in, uncertainty with the handover process to the remaining team and their ability to execute without Andre will create short to medium risks for investors. Additionally, if Andre were to update his Keep3r role on LinkedIn and/or reiterate his exit from this project, it could create additional selling pressure for the token.
Conclusion
In this article, we unpacked the relationship dynamics between Andre and Anton, and analyzed Andre's past articles to determine possible reasons behind the duo's departure. Despite the sell-off in FTM and Andre-linked tokens, we believe that their fundamentals still remain intact due to three reasons:
FTM TVL outflow is just a rotation out of mercenary capital,
Projects have been running without Andre's hand in their day-to-day operations for over a year, and
Most projects have existing teams to continue and/or take over to drive the protocol forward
To grasp the entire saga better, we have collated a list of useful Twitter threads for your convenience below:
Useful Readings
Opinion-related
2. What has Andre done for DeFi
3. Alpha from Andre Cronje Exit
Fantom-related
1. Fantom Foundation CEO Clarification Announcement
2. Fantom Foundation Clarification Announcement
Footnote:
1 A project created to capture enough TVL to qualify as a top 20 project on Fantom, meeting the snapshot requirements to receive one of Andre Cronje's ve3 NFTs.
Disclaimer
This publication is provided for informational and entertainment purposes only. Nothing contained in this publication constitutes financial advice, trading advice, or any other advice, nor does it constitute an offer to buy or sell securities or any other assets or participate in any particular trading strategy. This publication does not take into account your personal investment objectives, financial situation, or needs. Treehouse does not warrant that the information provided in this publication is up to date or accurate.