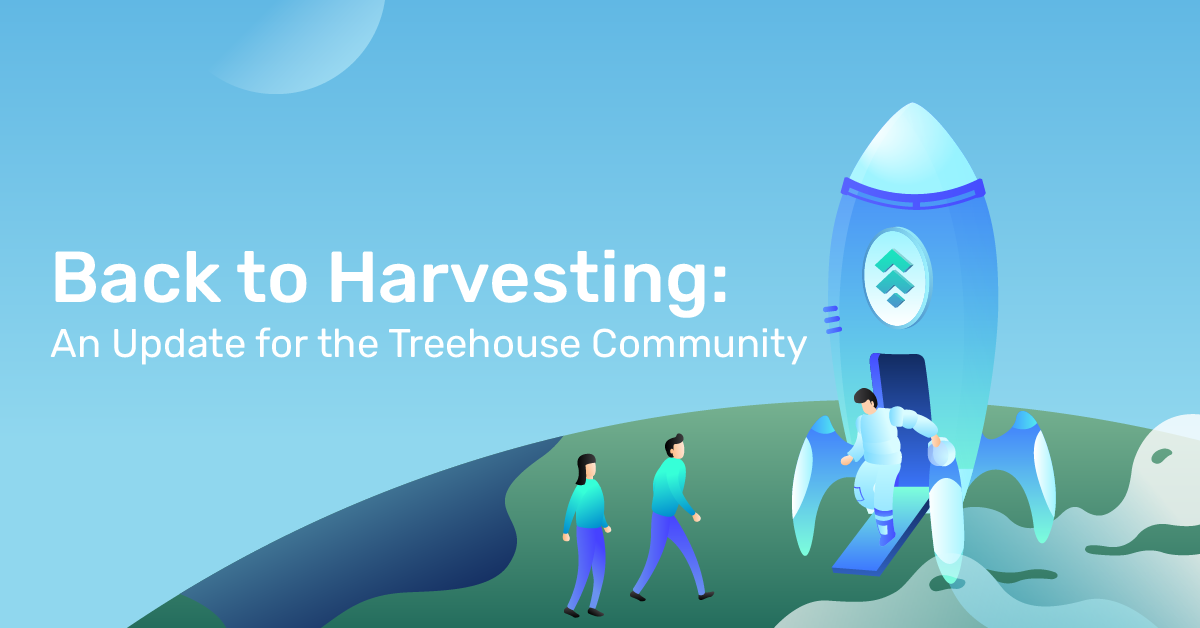 TL;DR:
A key takeaway from last week's events is that the industry needs to be able to comprehensively understand the macro, systemic, protocol, and portfolio risk in DeFi.
Our state of affairs

Treehouse had less than 1% of our balance sheet allocated to the Terra ecosystem;

We have a healthy operational runway of several years and are in talks with strategic partners for an exciting initiative.
Treehouse is a financial infrastructure firm. This means that our products will thrive in volatility; in a downturn, our users need us more than ever.
During this period, we will continue to focus on building and scaling our products and systems. We expect some changes in DeFi – a TVL flight to quality chains, developer movement from the Terra ecosystem, and increased regulation / stress testing are likely.
We are well-positioned to build real value-driven financial infrastructure products for the DeFi ecosystem to recover and grow.
---
Dear Treehouse Partners, Supporters, and Friends,
I hope you and your loved ones are staying safe despite the headwinds in the crypto markets. What transpired over the past week was unfortunate, and many of our closest friends, colleagues, protocols, and funds were deeply hurt by the volatility. Above all else, I hope you prioritize your health and know that things will get better in time.
Addressing the elephant in the room, we all witnessed Terra's rapid fall from grace within 3 days. At its peak, LUNA's market cap represented close to 1.5% of the entire crypto ecosystem (GDP). Recent events felt akin to an emerging market nation printing its currency (LUNA) into hyperinflation in a futile attempt to pay back its creditors (UST). The market has shown a lot of resilience through this, with ETH still very much alive and decentralized (The United States), while Bitcoin did what Bitcoin does (Gold but more like S&P nowadays).
Our Takeaway
The past crypto crises unearthed many of the foundational issues underpinning the space:
Mt. Gox's hack in 2011 resulted in BTC sinking to a penny, highlighting exchange security and the importance of self-custody;
Mt. Gox's bankruptcy in 2014 caused the markets to fall by over 80%, bringing attention to fiduciary duty and risk;
ETH's 2016 DAO hack, whereby a hard fork was executed to roll back the network's history to pre-attack, underlined the importance of audits and testnets.
Each instance of the many winters and liquidity crunches over the years accentuated a different aspect of crypto needing improvement before ushering in the next wave of investors. The market has its ways of humbling us.
This time, we believe that one of the lessons to be learned by the industry is that we need to comprehensively understand the macro, systemic, protocol, and portfolio risk in DeFi.
In retrospect, it was mind-boggling to see the amount of capital deployed into the space despite the inability of users to see something as simple as their P&L, evaluate protocol security, or conduct situational backtesting. If this can be tackled and resolved, we trust that it would not only re-open the gates for retail users and fast-money players (hedge funds) but real money (pensions, insurers, mutual funds, etc.) would be able to step in as well.
Our State of Affairs
I am also writing today to reassure you that Treehouse is doing fine. We have been very prudent with our finances, and ~95% of our balance sheet was in fiat and collateralized stablecoins (USDT and USDC). Of the 5% held in digital assets, less than 1/5 was in the Terra ecosystem. At this moment, we have a healthy operational runway of several years and are in fresh talks with new strategic partners for an exciting initiative.
We believe that bear markets reveal a company's true character, and the best companies will weather difficult times to keep building and emerge stronger. While we wait to see the collateral damage of last week's events, we are fortunate and grateful to be able to say that Treehouse will continue to grow.
Sowing the Seeds for Harvest
The recent collapse following crypto's meteoric growth over the past two years reminded us of the dot-com crash. Like how Google was quietly building through those years, Treehouse will do the same. Drawing parallels between Google Maps and Harvest, we are indexing every blockchain transaction at the protocol (highway imaging) and portfolio level (street imaging) to provide the most comprehensive portfolio analytics platform in the space. This task is no easy feat, but we have spent the past year putting the pieces together to make this a reality.
Treehouse has always been a blockchain infrastructure company, and we aim to be the best portfolio data analytics company in the space. During the winter, we will hunker down and sow the seeds for the next harvest. We have strategically and consciously built Harvest to be chain-agnostic, positioning ourselves to thrive in volatility and be agile enough to move focus between blockchains.
Especially in a downturn, our users need us more than ever.
From a growth perspective, we will be even more prudent but will continue to invest in talent with a long-term view. Within the past year, we have onboarded over 100 employees and will continue to focus on scaling our products and systems to ensure that Treehouse is where our people can do their best work.
DeFi 3.0
The crypto space we know today will undoubtedly change. DeFi "as we know it" is filled with many risky protocols that will gradually phase out. We predict that things will turn more legitimate (less infinite printing machines and forks), sustainable, secure, and institutional. Retail interest may be lower this year, but many institutions are also gearing up to enter the markets at these levels.
Below are 3 developments we are anticipating and will be ready for:
TVL Flight to Quality: ETH, its corresponding L2s, and a few other tried and tested L1s blockchains will likely be where most people will go, while protocols that are the most battle-tested, secure, and organic will thrive.
Developer Movement: Where the highly talented developers of the Terra community go will be important to keep an eye on as talent drives quality innovation and, ultimately, attention.
Regulation / Stress Testing: More regulation will and should come, but it must be in a way that does not hinder innovation. Organizations like Tether / Circle that pose systemic risk or are known as "too big to fail" will need to undergo proper stress testing and uphold operational standards to continue running.
Our Mission
Treehouse is well-positioned and excited to be at the forefront of this movement, building real value-driven financial infrastructure solutions for the ecosystem. Many from our team were former traders at some of the most established funds and financial institutions. We will soon share further thoughts in a series of risk management articles to help you best utilize Harvest to understand your DeFi risk.
Over the past week, we have been more engaged than ever with our partners and investors. Through each conversation, it is clear that the crypto industry has woken up to the need to seriously and properly understand DeFi and portfolio risk. I welcome you to follow us on our exciting mission to secure and shape the future of finance.
Stay safe and strap in, Treehouser! You are in good company.
Yours,
Brandon
Co-founder and CEO
Treehouse