We have integrated Avalanche into our Analytics App, Harvest, with support for the following protocols: Aave, BENQI, Curve, and Trader Joe. With this addition, multi-chain users can now view the most comprehensive portfolio metrics available in DeFi across 3 chains (BNB Chain, Ethereum, and Avalanche).
Product Upgrades
This release also introduced Governance Staking as a DeFi Productive Asset on Harvest. Click into any of your assets under Governance Staking to see more details about them, including Governance Share, Governance Power, and Unlock Time.
Getting Started on Harvest
Follow these steps to see a breakdown of your current and historical positions across BNB Chain, Ethereum, and Avalanche on Harvest:
Connect or enter your wallet address / ENS domain here.
Your wallet will then be sent for processing, which involves extracting and calculating your wallet's historical data. If this is your first time using Harvest, it may take up to 24 hours to prepare your wallet.
You may provide your email address to receive a notification when your wallet is ready. This is an optional step.
Return to Harvest after 24 hours, or look out for an email notifying you that your wallet is processed. If you cannot view your dashboard after 24 hours, kindly contact us at

[email protected]

or on Discord under #feedback-requests.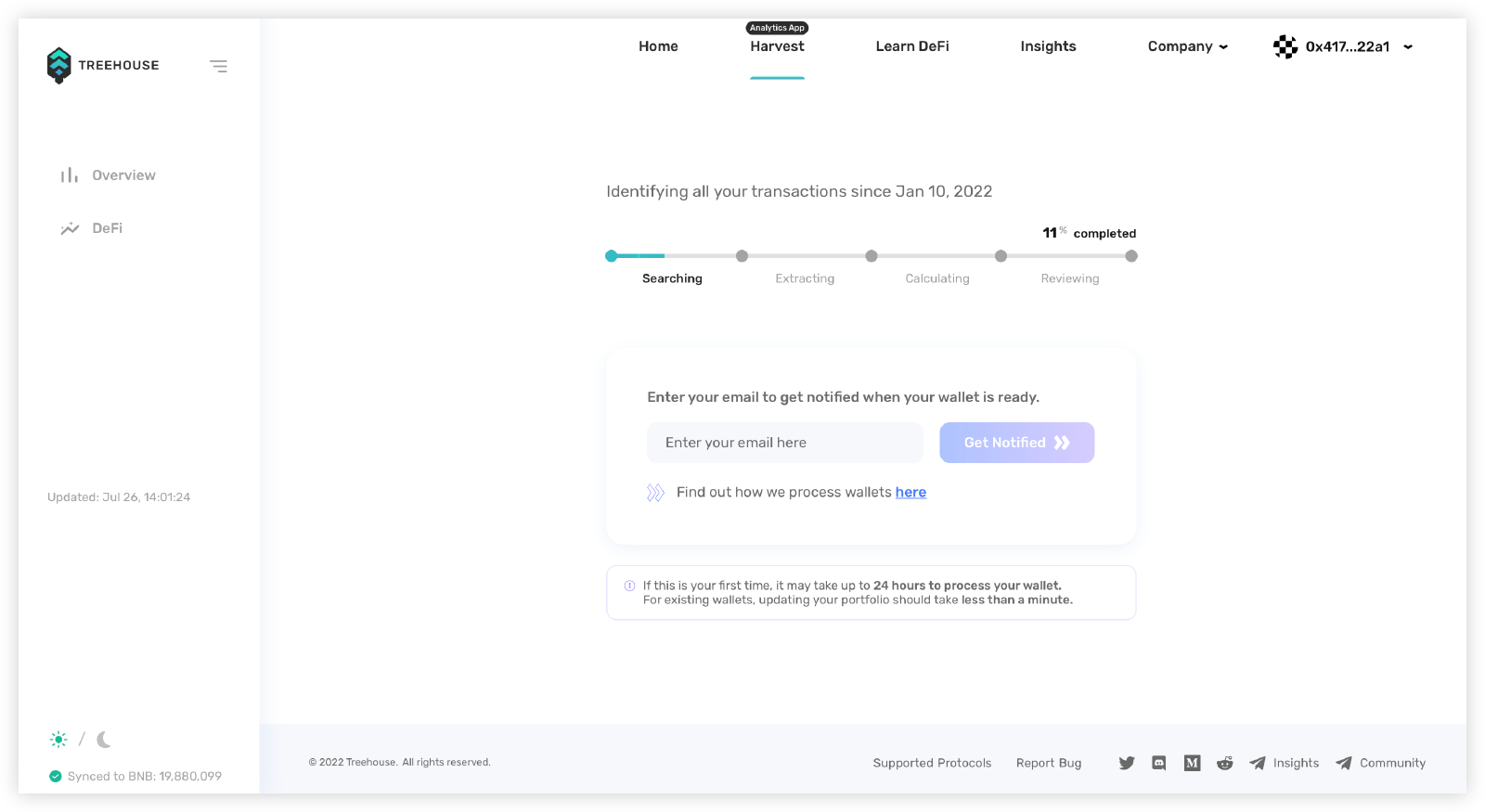 With its faster speeds, higher throughput, and lower fees, Avalanche has attracted a flourishing ecosystem of DeFi builders and users. Supporting Avalanche on Harvest is an integral step in Treehouse's strategy to deliver the best platform to provide data, analytics, and risk management solutions for everyday investors and institutions. Stay tuned for more protocol coverage across BNB Chain, Ethereum, and Avalanche in the coming weeks!
Keen to get started on Harvest? Take a tour of our Demo Wallet!
Found Avalanche on Harvest useful? Let us know what other protocols you want to see!
---
About Avalanche
Avalanche is an open, programmable smart contracts platform for decentralized applications. It is also the fastest smart contracts platform in the blockchain industry, measured by time-to-finality.