Searching for a unified platform to manage your DeFi portfolio? Try the brand-new version of Harvest, now an all-in-one platform supporting you through your entire investment journey. Read to find out what Harvest now offers on top of comprehensive DeFi portfolio analytics.
Product Features
Track with Portfolio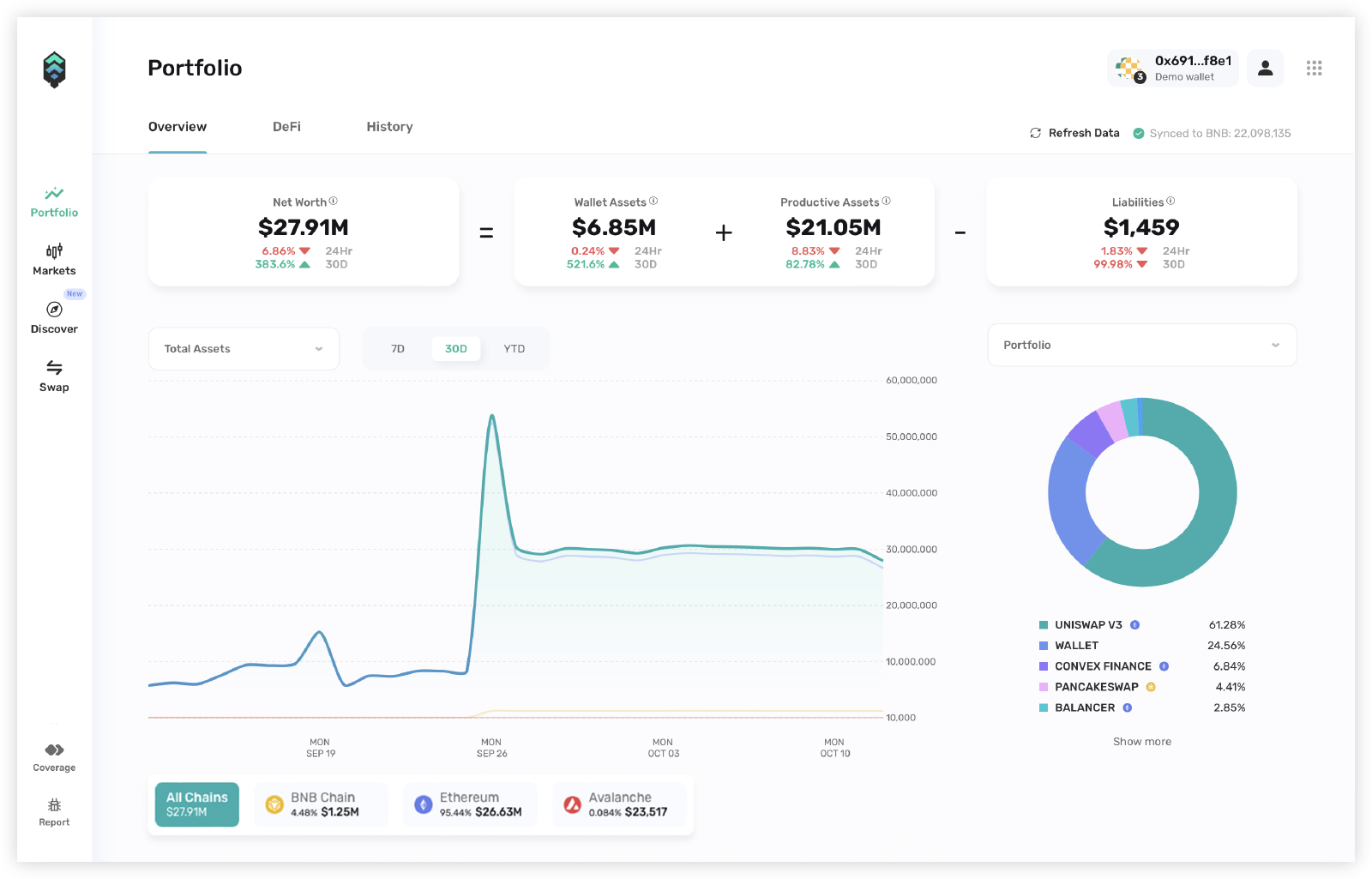 Providing comprehensive portfolio analytics is still the core of Harvest. Portfolio currently covers 120 protocols across BNB Chain, Ethereum, and Avalanche. Start your Harvest User Profile to see your portfolio's historical performance and risk attribution today. 
Monitor the Markets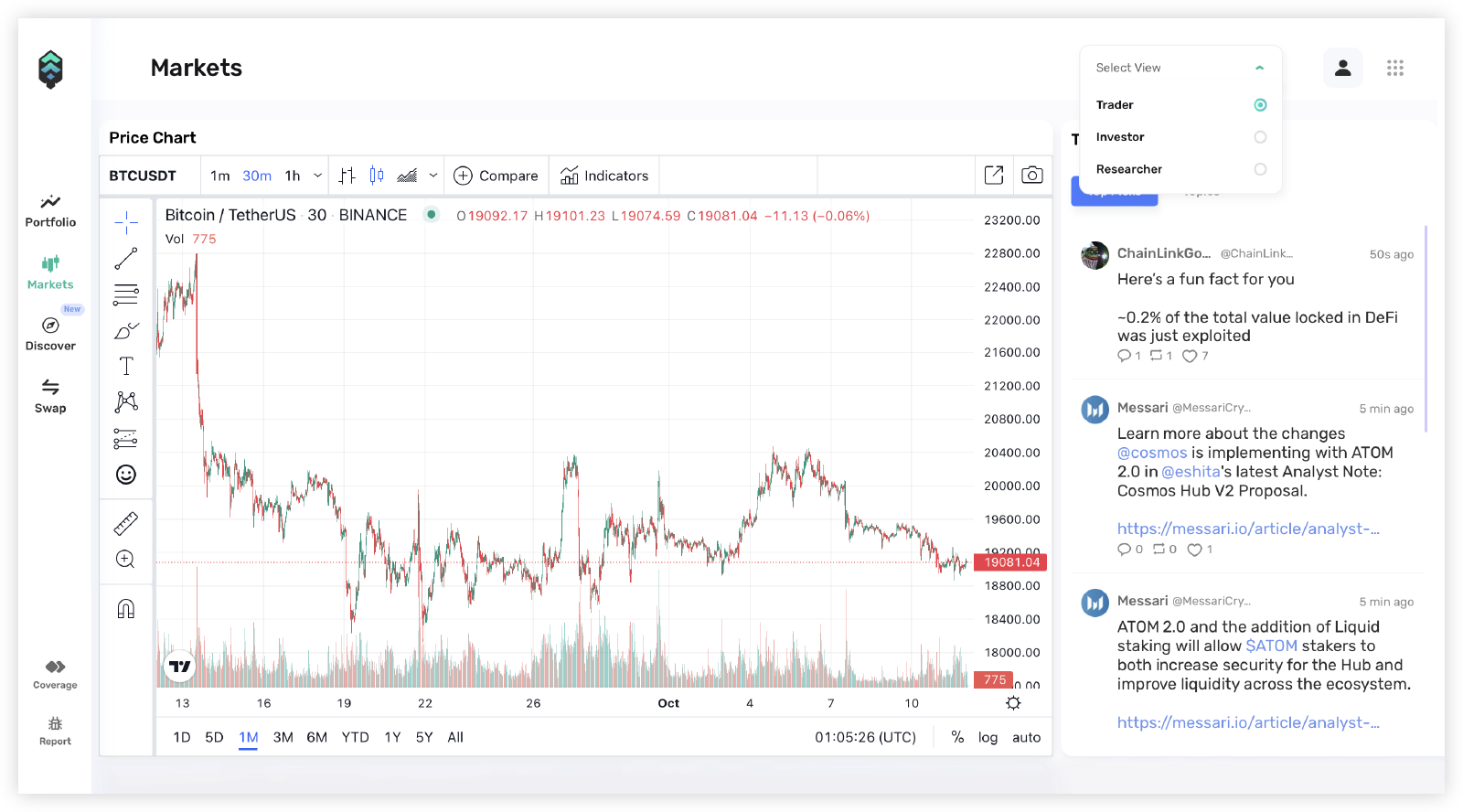 Keep tabs on both cryptocurrency and traditional finance markets with Harvest's curated dashboard of widgets! Markets offers 3 suggested views based on the type of DeFi user you are:
Trader
Investor
Researcher
Toggle among the views using the Select View drop-down menu at the top right corner of Markets to pick the arrangement of widgets that suits your workflow best.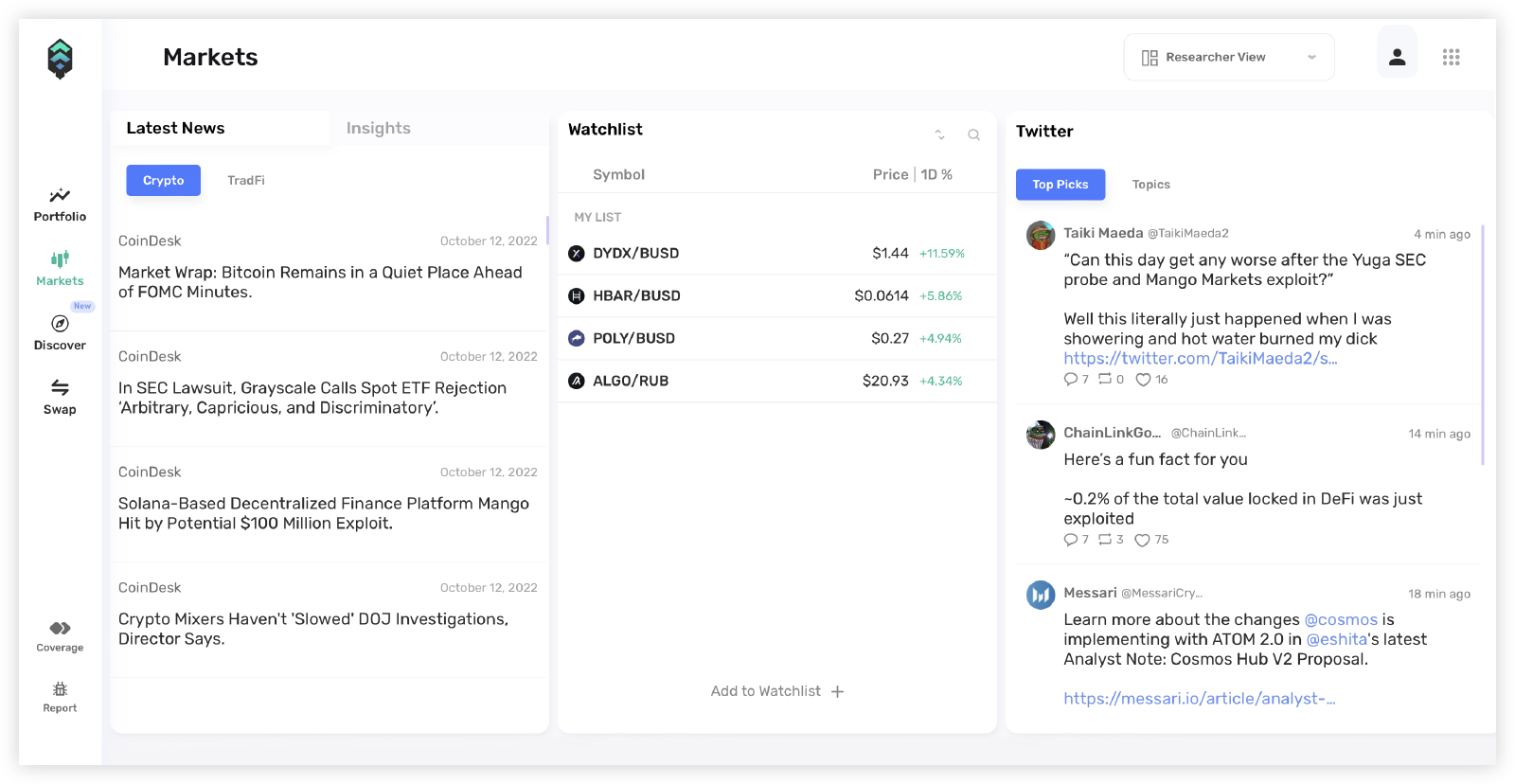 Markets features the following widgets:
Price Chart presents real-time pricing data for both digital and traditional assets with various viewing, comparison, and annotation functionality.
Watchlist allows you to add tokens to monitor their 1-day absolute and percentage price change.
Top Gainers / Losers is where you can find the cryptocurrencies and traditional finance assets that registered the most gains and losses over varying time periods.
Gas Tracker shows you the gas fees for Ethereum, Avalanche, and BNB Chain.
TVL by Protocol lets you track the total value locked (TVL) and market capitalization of the universe of protocols. Filter by TVL, Chain, and / or Category to explore protocols that interest you. Click on each protocol to expand information on it (available only for protocols covered by Harvest).
Twitter has a Top Picks feed, which comprises accounts followed by Treehouse Research, and a Topics feed, which currently displays tweets related to Bitcoin, Ethereum, Layer-1s, and Layer 2s.
Latest News lists the daily readings delivered by Treehouse Daily, while Insights showcases the in-depth analyses written by Treehouse Research.
Discover Pools and Farms
Identify new investment opportunities and conduct your due diligence on pools and farms from 37 protocols across 16 chains with Harvest's Discover! Browse featured pools and farms grouped by different strategies. 
Under the Explore tab, filter by Chain, Protocol, Token, TVL, and Annual Percentage Yield (APY) to find potential pools and farms to invest in. Select up to 4 pools and / or farms for comparison under the Compare tab to determine the best-yielding investment for your portfolio.
Swap & Bridge Assets
16 chains. 18 exchanges. 11 bridges. Swap and bridge over 5,000 tokens seamlessly on Harvest with Swap, powered by LI.FI.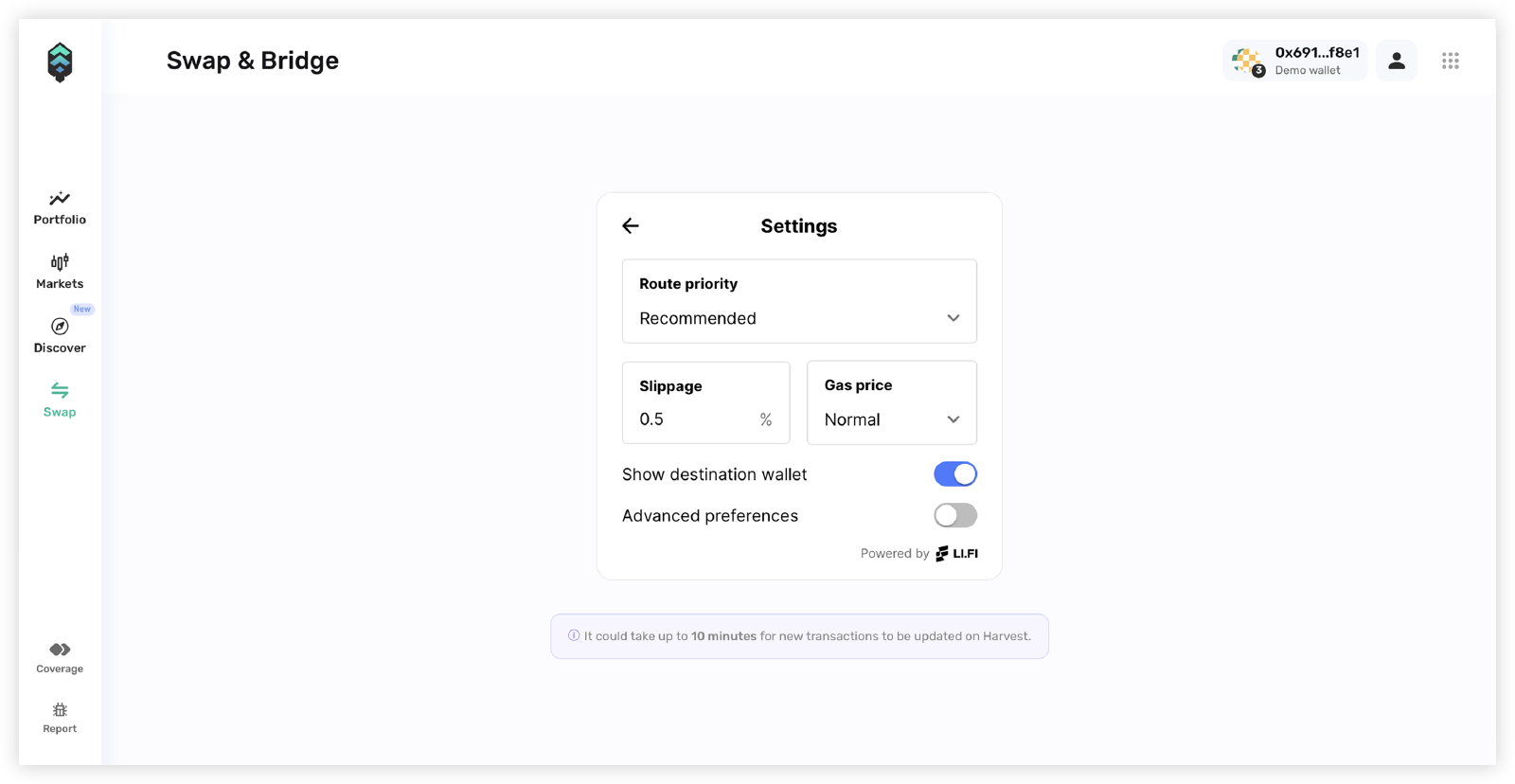 Via Settings, adjust your route priority, slippage, and gas price, and choose which bridges and exchanges to enable before executing your transaction.
Not a Harvest user yet? Start your experience here.
Got improvements to suggest? Tell us via our social media channels.