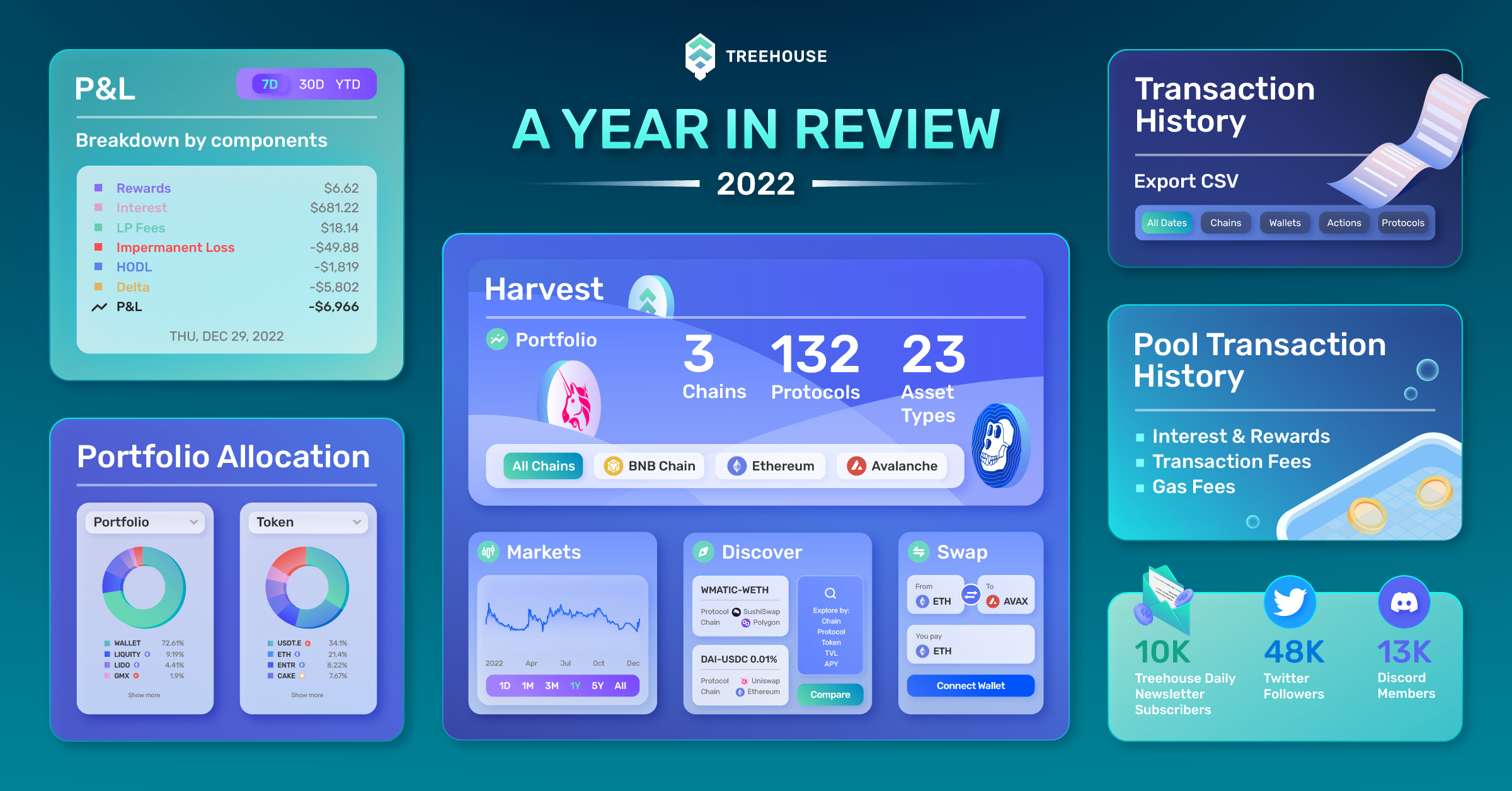 Over this year, our team hunkered down and sowed the seeds of a solid foundation for our company's continued success in the DeFi analytics space. A US$18M seed round, nearly 100 team members, and two offices later, we are thrilled to take stock of our milestones for the year.
A Never-Ending Harvest
Harvest has outgrown its roots and, within a year, saw through a series of upgrades expanding its analysis capabilities and support for chains and protocols.
Harvest underwent a revamp in October, transforming into an all-in-one platform to support you throughout your entire investment journey. Our platform now features:
Numerous other protocol additions and improvements have been made along the way, taking Harvest to the next level. These include the launches of:
3 chains, 132 protocols, and 23 asset types later, our team is humbled by your continued support and prouder than ever to call Harvest a product of our own.
Refreshing Research and Expanding Education
Despite its simple beginnings as a Telegram Broadcast Channel, Treehouse Research has since evolved to bring our readers Treehouse Daily, a newsletter providing institutional-grade coverage on financial markets and Insights, deep dives into topics that drive the future of DeFi. Here are some highlights:
As part of our commitment to helping everyone Confidently Navigate DeFi, our team has also worked tirelessly to create Learn DeFi, a free resource portal featuring a compendium of articles to accelerate your DeFi journey. Read some of our best articles here:
Connecting with the Community
Over the last quarter, we initiated "In the House", a series of panel discussions on Twitter Spaces featuring speakers from prominent DeFi projects like Ava Labs, GMX, and dYdX.
Our conversations about DeFi did not end with projects. Since the middle of this year, we have been working on driving DeFi discussion within our community through our Fortnightly Fireside Chats on Discord.
This October, in partnership with Persistence, we also connected with our community for the first time in real life through our Tr3e Party Series, hosted during the week of TOKEN2049 Singapore. After three nights of unforgettable fun and the exciting launch of Gaia, all of us at Treehouse cannot wait to meet more of our community at our future events!
The Road Ahead
The path ahead seems uncertain, with poorer macroeconomic conditions, rising interest rates, and the second-longest crypto bear market in history. In times like these, a strong and clear goal is essential to stay the course. Treehouse rallies around its promise to help everyday investors and institutions Confidently Navigate DeFi.
We will continue to work towards building institutional-grade DeFi portfolio management tools and count the days till we can show you what we have in store for 2023!
The Treehouse Team